Music Faculty
Full time faculty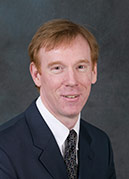 Dr. John Berners
Professor
Music
Composition

PhD, Composition & Music Theory
Background
From his first orchestral work, "The Last Days of Calvin and Hobbes," to his recent chamber piece, "Twinkle Toes," the music of John Berners shows a fondness for the irreverent and a fascination with American music from bebop to marching bands.

After earning a BM in trombone and a BA in mathematics at Northwestern University, Berners studied composition privately with C. Curtis-Smith and at the University of Michigan under Evan Chambers, William Albright, Bright Sheng, Michael Daugherty and William Bolcom. There he earned an MM in composition and PhD in composition & music theory.

Berners's works have been performed by the Detroit Symphony, the Virginia Symphony, Kiev Philharmonic, Indianapolis Chamber Orchestra, Boston Symphony Brass, the Ronen Ensemble, Brave New Works, Ensemble SurPlus, Xanthos, and many university ensembles, and at festivals like Tanglewood, June in Buffalo, Music X, Denison University Tutti, and the Missouri New Music Festival.

An enthusiastic teacher, Berners is associate professor at the University of Indianapolis. He has previously served on the faculties of the University of Iowa, American University, the Colburn School for the Arts, California State University at Fullerton, Kalamazoo College, and Interlochen Arts Camp.
Contact Information
jberners@uindy.edu
317-788-8776
Christel DeHaan Fine Arts Center 127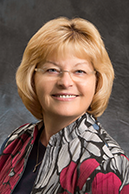 Dr. Brenda Clark
Department Chair & Associate Professor
Director of Music Education Programs
Music
Music Education

PhD, Music Education
Background
With more than 20 years of experience teaching and administrating all facets of public school music education in central Illinois, Dr. Brenda Clark serves as the chair of the Music Department and director of music education programs at the University of Indianapolis. At UIndy, her responsibilities include teaching introductory courses in music education; elementary, general, and secondary methods classes; music methods for elementary education majors; supervision of pre-student teaching field placements, student teaching supervision, recruitment, and advising. Her research has included participation in case studies of the nationally acclaimed Milwaukee Symphony Arts in Community Education (ACE) program, and the essentials of program development for instrumental music. Her degrees include a Bachelor of Music (1975) and Type 75 Administrative Certificate (2006) from Eastern Illinois University, and a MME. (1998) and PhD (2005) from the University of Illinois.
Contact Information
clarkb@uindy.edu
317-788-3283
Christel DeHaan Fine Arts Center 103B
---
Associate faculty
---
Adjunct faculty
---
Pamela Ajango
---
David Bellman
---
Jane Brewer
Special education, Secondary Choral Methods

MS
---
James Caraher
---
Susan Chan
---
Dr. E. J. Choe
Associate Adjunct Professor
---
Glen Dimick
---
Sue Dykes
Elementary music education

MS
Contact Information
dykess@uindy.edu
---
Thomas Gerber
Harpsichord and Music History, Baroque Ensemble

MM
---
Cathryn Gross
---
Joylyn Hague
Associate Adjunct Professor
Contact Information

---
Matt James
Contact Information
jamesmc@uindy.edu
---
Geoffrey Kelsaw
Voice; Voices of Worship

BS
Contact Information
gkelsaw@uindy.edu
---
Doug King
Contact Information
kingds@uindy.edu
---
Terence Mayhue
Associate Adjunct Professor
Contact Information

---
Amy Mougey
Associate Adjunct Professor
Contact Information

---
Daniel Narducci
---
Mark Ortwein
Contact Information
ortweinm@uindy.edu
---
Nemanja Ostojić
---
Travis Person
Contact Information
persont@uindy.edu
---
Byron Plexico
Contact Information
bplexico@uindy.edu
---
Larry Powell
---
Art Reiner
Percussion techniques; African Drum Ensemble

BA
---
Anne Reynolds
---
Dr. Steven Rickards
Voice; director of Vocal Arts Institute

DMA
---
Ariel Rudiakov
---
Jennifer Siukola
Contact Information
siukolaj@uindy.edu
---
Darin Sorley
---
Scotty Stepp