Anthropology & Archaeology Labs & Facilities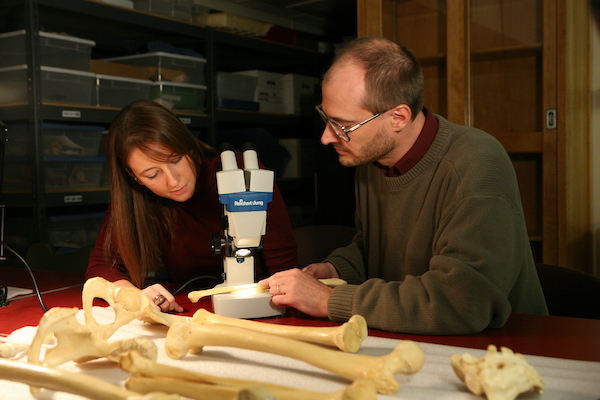 Student research is readily available, in part, thanks to the University's outstanding lab facilities. UIndy Anthropology and Archaeology students receive the personal attention only a small school can provide. The department's three labs include:
Indiana Prehistory Laboratory
The Indiana Prehistory Laboratory (IPL) is designed to support graduate, undergraduate, and faculty research in bioarchaeology and dental anthropology. Students working in the IPL study human remains from all over the world, participate in experimental research in cutmarks analysis and burned bone studies, and participate in the DentalWEAR project, an interdisciplinary research project designed to understand the human diet throughout history.
IPL features include:
White Light Confocal Profiler - Obtained through a prestigious National Science Foundation grant, this microscope is revolutionizing dental microwear labs and can be found in only a handful of U.S. anthropology labs.
Scanning Electron Microscope
Material Culture Laboratory
The Material Culture Laboratory (MCL) functions as an artifact conservation and analysis space. Both graduate and undergraduate students conduct research in the MCL and have the opportunity to work as paid assistants.
Current hands-on research includes:
Native American pottery from the Spanish Mission field site on Sapelo Island in Georgia
Studies of late 19th & 20th century material from archaeological investigations from across Indiana
Classifying and analyzing Indiana chert (flint) types