Browse Department
Nationally renowned forensic lab
No other biology master's program in the nation involves students in the kind of forensic research that occurs at UIndy each semester. Three to five highly-qualified students are accepted each year and work alongside professors on current forensic cases while completing their degree. The learning garnered in this work enables you to enter the field with a wealth of experience that is unparalleled by any other program. Learn more about UIndy lab facilities ►
Scene of the Crime
In an Investigation Discovery network show titled "The Shift," UIndy's Dr. Krista Latham and a student forensic team analyze a local crime scene. Take a look into the nature of crime scene investigations by watching Dr. Latham and the students collect biological evidence in the ID video clip, "Scene of the Crime."
Traveling and research application
You'll find great ways to apply your course materials and research methods through international and in-house research. From exploring gorilla burials in Rwanda to creating population-specific equations in Chile, students have explored the world, enriching their educational experiences.
Preparing for PhD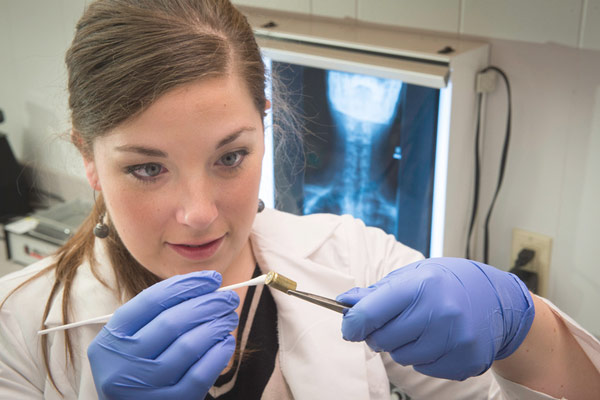 While gaining research experience abroad, spending invaluable time in the forensic lab, and coauthoring research papers, you're also preparing to enter a PhD program upon graduation. The skills and practice our students develop in their Master's program at UIndy have helped them get accepted into top-notch PhD programs across the country.