Nominate a Standout Staff Member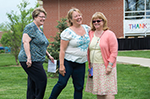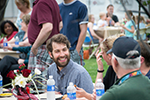 Whether you work with them, see them around campus or have been impacted by their efforts, nominate someone you believe makes UIndy a better place.
Process & timeline
To nominate a staff member, go to the Staff Awards Nomination form, or you can simply click the link below to be taken straight to the form. Be sure to fill all sections out completely. All nominations must be submitted by March 22, 2017.

The University Awards Committee will meet to discuss nominations in April 2017 and select a list of finalists.

An informal opportunity will take place in April 2017, giving nominators of the finalists the chance to explain what makes their nominee a standout.

Nominators will be notified of winners in May 2017.

Winners will be announced at the Faculty and Staff Institute in August 2017.
Eligibility
Only full-time staff are eligible for nomination. The Office of Human Resources will verify each nominee is in good standing with the university, not on probation or on a performance improvement plan. Nominees will not be eligible if they have won a staff achievement award in the past five years.
Questions? Contact Lara Mann at: mannlg@uindy.edu