Staff Achievement Award Categories
From school spirit to community outreach, our extraordinary staff go above and beyond.
Read through the different category descriptions below to choose which one fits your nominee best.
UIndy Emerging Leader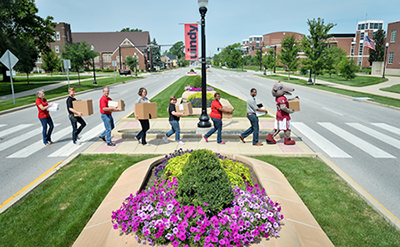 This award is presented to a staff member with fewer than two years of service at UIndy who has made a unique, significant contribution not only to embracing the spirit of the university, but also providing superb service and fostering interdepartmental relationships. An emerging leader shows signs of strength, integrity and continuous improvement professionally and personally.
Enhancing the Student Experience
At UIndy, we are committed to serving our student population. This award will be presented to an individual who has demonstrated outstanding achievement in inspiring students through innovative practice fueled by enthusiasm. Nominees should exemplify extraordinary efforts to increase student success and promote a positive, healthy and impactful learning experience.
Examples include being instrumental in a direct personal intervention with a student in need, or demonstrating initiative in offering students a personally or intellectually rewarding co-curricular experience.
Unsung Hero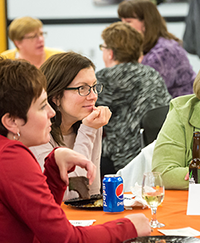 This individual is dedicated not only to executing his or her job, but also to helping others and filling in where needed, performing tasks at a quality level, active solving problems and demonstrating dependability, responsibility and perseverance—all without fanfare. This person takes initiatives to solve problems and improve work situations without being prompted and is an invaluable team member.
Spirit of UIndy
This award goes beyond simply taking pride in the university, but encompasses what it means to truly live in the example of UIndy's mission. This individual is a shining example of excellence, positivity, loyalty, teamwork, creativity and cooperation, serving as the beating heart of the institution, acting with integrity, respect and compassion, and always looking out for the welfare and well being of others.
Collaborative Spirit
This award may be presented to a team or department that has demonstrated successful collaboration. Whether it is creating a project, solving an issue that resulted in improvements, planning a new program or initiative, offering a service, or streamlining a process, nominated groups are examples of the positive effects of true teamwork.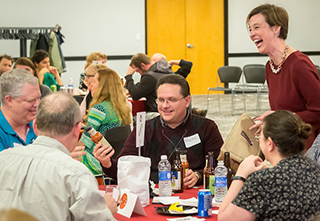 Beyond UIndy
This award is given to staff members who have made significant efforts to improve the UIndy community, as well as their own. They are leaders within larger communities, working toward social justice, societal change, and service of others with humility and compassion.
*Please note that an award may not be given in all categories if the nominations do not provide sufficient justification of meritorious performance.