Nursing Simulation Lab
Guided learning in UIndy's simulation lab is integrated throughout the undergraduate curriculum, giving nurses-in-training risk-free practice of routine and life-saving skills in a hospital environment before their first clinical experience.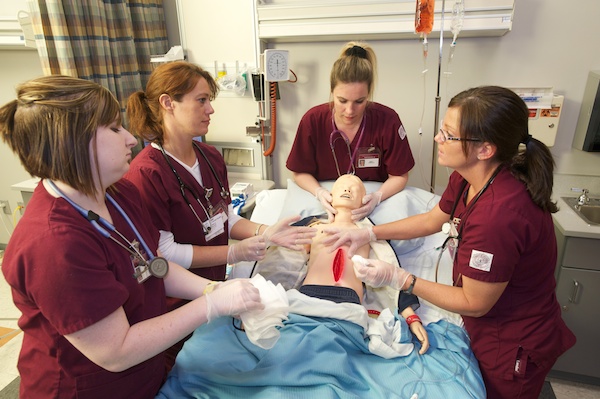 Patient care across the life span
The simulation lab has more than a dozen life-sized mannequins with varying functions, including two high-fidelity (computer-controlled) mannequins, as well as an infant and a child for pediatric simulations. Students will practice a full range of skills needed for nursing, such as:
Listening to heart rates and checking respiration
Drawing blood or inserting intravenous drips
Performing resuscitation
Computer-controlled mannequins
One mannequin, Sim Man, can be intubated and has a chest that rises and falls as he breathes. He can also talk to students. Noelle has similar high tech features but also gives birth – with cherry pie filling used as blood and a placenta that has detachable pieces. Reservoirs within her body allow her water to break.
Infant and child mannequins
Students can practice what to do when a baby mannequin turns blue, cries constantly or exhibits lung problems, such as asthma. Another baby mannequin teaches students about shaken baby syndrome and shows where brain damage occurs.
Assessing performance of simulated scenarios
Nursing professors set the stage, making the room and situation as close as possible to a real hospital experience. Without prior knowledge of the scenario, students will address patient conditions and make quick judgment on quality and safety issues prevalent in real practice. They will also prepare for medical intervention in code emergencies. Each session is videotaped, allowing students to critique and learn from their performances later. Debriefings are also held with instructors and students' peers.