Browse Department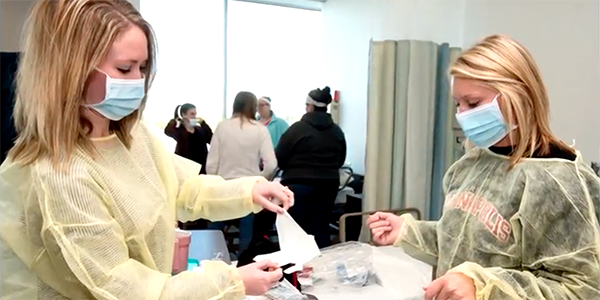 Watch the video to learn what hiring managers are saying about the quality of nursing graduates from University of Indianapolis.
Ace the nursing licensure exam
UIndy's Bachelor of Science in Nursing program is among the top-tier in Indiana, providing you with nursing experience, knowledge and extra online preparation to master the nursing licensure exam (NCLEX) upon graduation and prepare for your first nursing job and further nursing education.
Our pass rates on the NCLEX are consistently higher than the national average, according to data by the Indiana State Board of Nursing and the National Council of State Boards of Nursing.
Extensive clinical experience
UIndy partners with local health systems to bring you clinical experiences that expose you to the best holistic and community nursing practices. Over six semesters, you'll have two days per week of faculty-supervised hands-on experience providing direct care to patients of all ages. During this time, you'll also learn about new technology and the rapidly changing needs of health care systems.
Simulation labs provide risk-free learning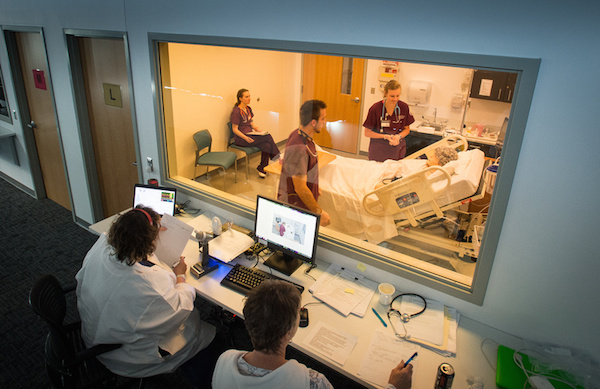 In addition to clinical experience, simulation lab sessions are integrated into each semester's courses. By practicing vital nursing skills on life-size mannequins in a simulated hospital environment, you'll learn to think quickly and have the opportunity to correct your mistakes. And with our 8:1 student-to-faculty ratio, you're guaranteed to receive the personal attention you need to succeed, even beyond office hours and before and after class.
Accreditation
The bachelor's degree program at the University of Indianapolis is accredited by the Commission on Collegiate Nursing Education.

During Summer 2017, four UIndy nursing students participated in an intense learning experience piloted at Eli Lilly and Company (Lilly) in which they rotated through various aspects of Lilly's operations — from drug discovery and development to bioethics and patient safety. The Lilly/University of Indianapolis Nurse Education Program involved students in real-world projects, industry-led professional development workshops and opportunities to network with Lilly nurses, experts and leaders. By exposing students to the drug development process, they gained valuable knowledge of how patient-centered treatment options are developed and assessed.
UIndy nursing student Danielle Sparling said of her experience, "From day one, I gained insight into how many avenues there are within the field of nursing. This was exciting, because I was able to learn about these non-traditional roles."
Read the full story ►