About the Richard G. Lugar Academy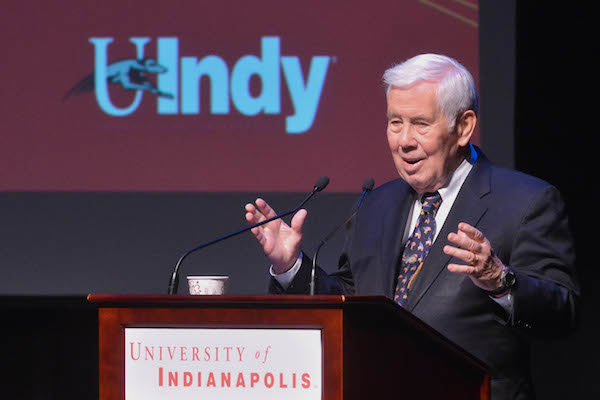 The Richard G. Lugar Academy, formerly the Lugar Center for Tomorrow's Leaders, builds on Senator Lugar's legacy of service and leadership by developing strong leaders through several programs:
The Lugar Symposium for Tomorrow's Leaders, an annual event that brings high school juniors from around Indiana to UIndy to discuss public issues and world events. Many students who have participated in the Symposium over the past 39 years have become successful leaders in various fields.
A Lecture Series at UIndy featuring Senator Lugar
Lugar's Association with UIndy
The University of Indianapolis and Senator Richard G. Lugar have enjoyed a long and rewarding relationship. Lugar is a Distinguished Trustee of UIndy and a Distinguished Professor of Political Science and International Relations. He also holds an honorary UIndy degree.
Lugar was on the Board of Trustees from 1970 to 2002, and also served a stint on the University's faculty, teaching political science as a visiting professor between his last term as mayor of Indianapolis and his first term as a U.S. senator. In 1977, he launched the Symposium that bears his name, which continues to draw more than 400 high school juniors from around the state to UIndy each December to discuss topics of local and global importance.