UIndy Homestead Program
UIndy is helping to grow a welcoming "village" around campus. To encourage our faculty and staff to buy homes nearby, the University will give $5,000 to any full-time employee who buys a house in the surrounding neighborhoods.
The $5,000 is a loan (see loan details) that will be forgiven at $1,000 per year over 
five years. The money can be used for a down payment or home improvements.
Benefits of Living Near Campus
Neighbors know one another as friends and strengthen the safe community feel of the area through such neighborhood events as the yearly garage sale and Halloween party. In addition, the University Heights Neighborhood Association, in partnership with Keep Indianapolis Beautiful, sponsors neighborhood tree plantings and clean-ups.

You have a great opportunity to engage with 
your students and colleagues without having to make a long drive back to campus. And, you can enjoy all the benefits of living near a university that is only four miles from the center of Indianapolis, with immediate access to major interstate highways.

Save the time and expense of commuting, plus get in some extra exercise by walking to work. Living nearby also gives you quick access to the many cultural and sporting events on campus.

The 136-acre Garfield Park, the city's oldest, is only two miles 
away and features a tropical conservatory and European-style 
formal gardens. Southside Park is located on Hanna Avenue, in easy walking 
distance from campus. In addition, UIndy has partnered with the University Heights Neighborhood Association to create an outdoor learning lab and park a block 
from campus.

Bicycle lanes soon will connect you via Historic Fountain Square and the Cultural Trail to downtown and beyond, or southward 
to Greenwood Park Mall.

For your children's education, choose from a variety 
of options, including IPS public schools, Calvary Christian School, 
Christel House Academy and the Montessori Garden Academy.

The Gateway Community Alliance, which sponsors the popular Miracle Mile Parade each year, is creating the Gateway South District identity for this area and supports continuing improvements.
How to Apply
Fill out this application and return it to the Office of Human Resources (Esch Hall, Room 163). Additional information about specific lending programs and other financial benefits also is available in Human Resources.
Program Area
UIndy's Homestead Program area includes the historic University Heights Neighborhood and residential areas to the north and east 
of campus.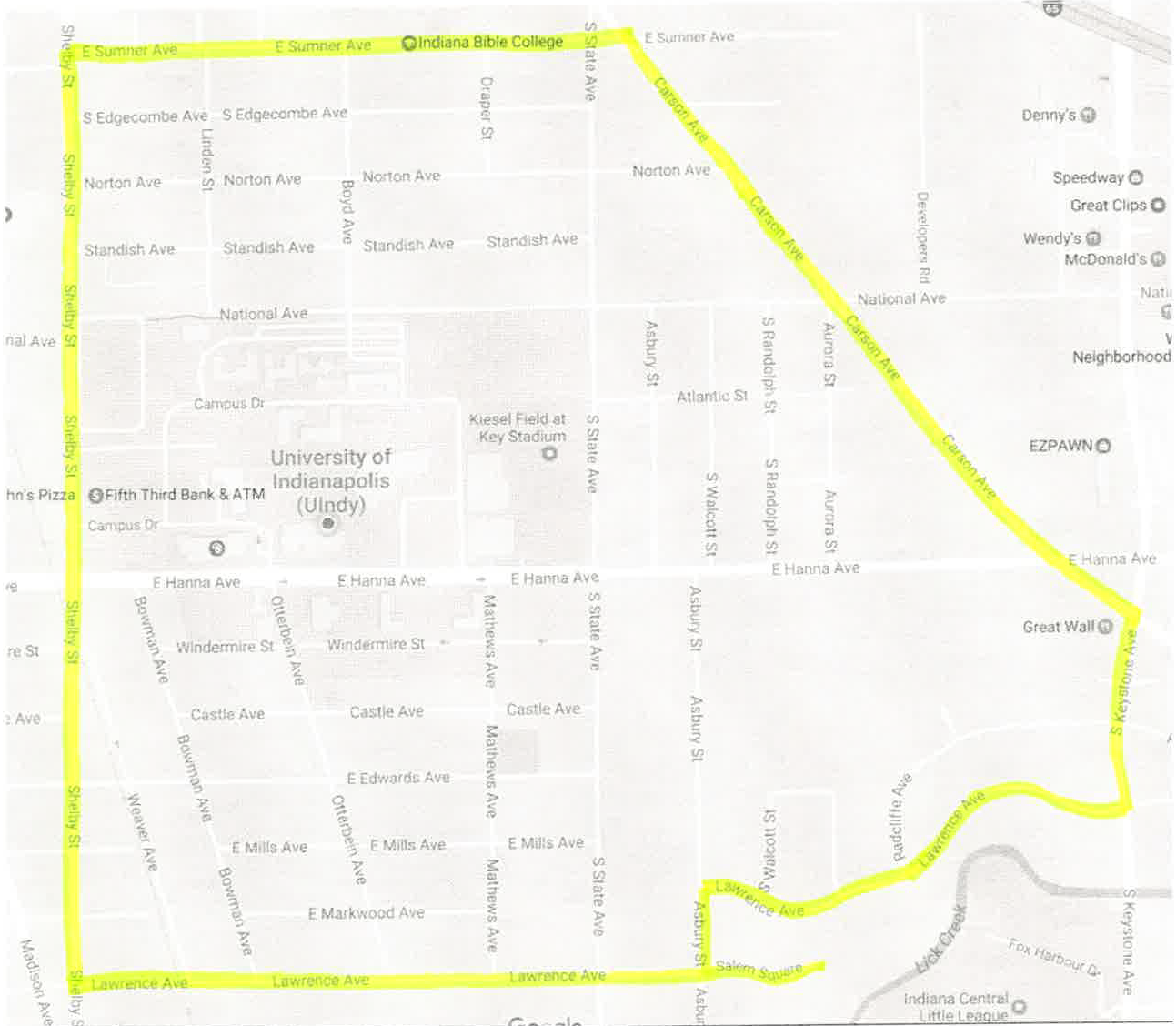 INHP Anchor Revitalization Program
The INHP Anchor Revitalization Program offers up to $5,000 in down payment assistance only. The funds also are provided through a five-year forgivable loan for qualifying employees. The University of Indianapolis is one of several local entities identified as community anchors offering this service to its employees. The program is conducted in partnership with the Indianapolis Neighborhood Housing Partnership and the Indy Chamber.
INHP Anchor Revitalization Program
Up to $5,000 in down payment assistance only
Loan is forgivable after 5 years
Salary requirements apply
Boundary defined online
Requires a homeowner education course
Benefit is first-come, first-served