Master of Occupational Therapy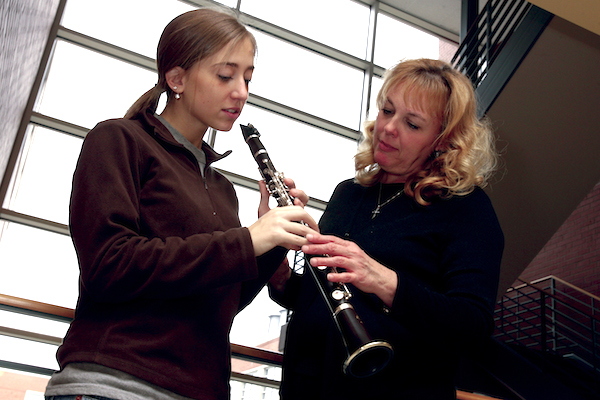 The entry-level Master of Occupational Therapy (MOT) prepares students to enter practice in the profession of occupational therapy. Students are prepared as generalists; however, a strong foundation allows for future specialization after graduation. This program is ideal for career-changers who already have a bachelor's degree from a regionally accredited institution and who want to continue working while going to OT school.
The University of Indianapolis MOT program is accredited by the Accreditation Council for Occupational Therapy Education (ACOTE) of the American Occupational Therapy Association.
Mission
The mission of the entry-level Master of Occupational Therapy program within the School of Occupational Therapy is to develop caring and competent occupational therapy practitioners who are lifelong learners and leaders within local, national and global communities. Students evolve into practitioners who are critical thinkers and demonstrate the ability to understand scholarship to be able to integrate evidence with practice. Learning opportunities cultivate leaders with high standards of professionalism in existing and emerging practice areas. Graduates impact the health and well-being of clients across diverse populations by facilitating engagement and participation in valued occupations.
Format
The entry-level Master of Occupational Therapy program classes take place on campus two days per week, with accompanying coursework to be completed online.
Program Length & Curriculum
The approximately 76 credit-hour curriculum is completed in 3 1/2 years of academic work, plus various full-time fieldwork experiences integrated in the curriculum and six months prior to completing the program.
Tuition
The entry-level MOT Program is charged per credit hour. Tuition for the 2017-18 academic year is $872/credit hour. Students will average 6 to 10 credits per semester, and the program is 10 semesters. The average cost per semester is between $5,232 and $8,720, with the total cost of the program estimated at $66,272. Tuition and fees are subject to change annually. See a list of other possible fees. ►
Contact the Office of Financial Aid to apply for traditional financial aid resources (federal loans).
When can I start?
The entry-level MOT program begins each year in January. Applications must be submitted by Sept. 1.
How is the MOT different than the OTD?
The Master of Occupational Therapy and the Doctor of Occupational Therapy programs differ primarily by format, research requirements and clinical experience. The MOT program has a focus on evidence-based practice, while the OTD focus is on research. MOT classes are offered two days per week, allowing for working professionals to remain in their jobs while going to school. The OTD is a traditional program with classes offered during the weekdays. In addition, students in the OTD program will complete one additional clinical rotation (Doctoral Capstone).