Undergraduate Pre-Occupational Therapy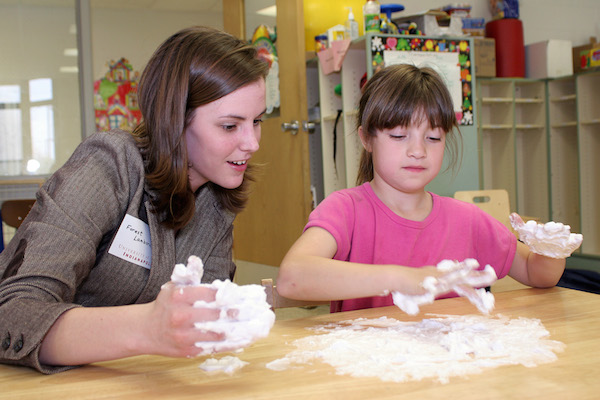 To become an occupational therapist, you must earn a graduate-level degree. If you are an incoming freshman or transfer student to UIndy, you can choose Pre-Occupational Therapy as a concentration, but you must also choose a major. While you can choose from any major as long as you complete the prerequisite courses, certain programs offer majors in conjunction with Occupational Therapy, including Anthropology, Community Health Education, and Psychology.
After you complete your bachelor's degree, you can apply to the School of Occupational Therapy. For high-achieving students, we offer the following options to guarantee admission or accelerate your path to earning a Doctor of Occupational Therapy degree.
Early Entry
This option (formerly called the 4-1.5 program) allows you to be granted permission to start occupational therapy coursework in your 4th year after the completion of all undergraduate major and core requirements. Students are not officially accepted to the OTD program until they have received their bachelor's degree. To qualify for this option, you must:
Be enrolled in the University of Indianapolis undergraduate programs.
Declare a major with a concentration in Pre-OT.
Submit a letter from your undergraduate advisor approving that all designated university core, major, and occupational therapy prerequisite courses will be completed prior to your fourth year of college.
Apply during your junior year, requesting permission to take courses in the occupational therapy department.
Following the completion of your undergraduate degree and two semesters of OT coursework, students then receive official acceptance to the OT program.
OT Early Assurance
UIndy offers a unique program called the Early Assurance Option designed for incoming freshmen who have declared pre-occupational therapy as a concentration in conjunction with any undergraduate major. This option, which is not available for transfer students, will inform your course selections through your undergraduate career. With acceptance into the Early Assurance Admission program and fulfillment of all program criteria, you will be guaranteed admission into our entry-level Doctor of Occupational Therapy (OTD) program.
Qualifications for Early Assurance Admission Option
To be considered for the Early Assurance Admission Program, candidates must be admitted into any undergraduate degree program by the University of Indianapolis and meet the following:
High school minimum GPA of 3.5 on a 4.0 scale
Proficiency in high school math and science courses
Qualified standardized test scores
Declare pre-occupational therapy as a concentration by February 1
Students will be reviewed for early assurance to the OTD three times per year in December, January, and February. Students will be notified by mail if they are awarded a early assurance offer and will need to return the intent form by the date noted in the letter in order to secure the early assurance offer.
Once admitted to the Early Assurance Admission program, students must maintain specific academic standards to keep their guaranteed status into the graduate program. These standards include:
If following the Early Entry Option (formerly called 4-1.5), all undergraduate major requirements must be met before entering the graduate program, or if following the bachelor's degree option, the bachelor's degree must be completed before entering the graduate program.
Students must complete and maintain a 3.5 GPA in all occupational therapy prerequisite courses before entering the graduate program. (GPAs are checked each semester)
A grade of "C" or higher is required in all occupational therapy prerequisite course work. NOTE: Advanced Placement (AP) credits are not accepted as prerequisites for the occupational therapy graduate program.
Maintain a cumulative and prerequisite GPA of 3.5 or higher. (GPAs are checked each semester).
Attend a yearly, scheduled advising session with an assigned occupational therapy advisor and provide required documentation.
Participate in an interview for the program. After this interview, the program director will review results and the student will be alerted if there are additional requirements before being granted admission status (i.e. additional observation hours).