Browse Department
UIndy OT programs
UIndy's School of Occupational Therapy offers the following comprehensive and hands-on programs:
Entry-level Doctor of Occupational Therapy
Entry-level Master of Occupational Therapy
Postprofessional programs in Occupational Therapy
Our entry-level programs (OTD and MOT) differ in two ways: the format and the clinical experiences. The OTD program is full-time and requires an additional level of in-depth field work experience. The MOT program is part-time and works well for career changers and those who wish to continue working while going to school.
What is occupational therapy?
Occupational therapists are committed to restoring independence, function and the performance of daily activities by individuals of all ages in their home, school, workplace and community. Occupational therapy maximizes the fit between what individuals want to accomplish, their capacity to do so, and the resources needed.
As the U.S. healthcare system continues to move toward home and community-based services, the roles for occupational therapists will only increase. Occupational therapy is consistently ranked as a "best job" in many national polls.
Top ranked
The UIndy School of OT is ranked among the best graduate schools in the nation and is fully accredited. We offer students the opportunity to work with outstanding faculty and earn a degree from a school with an excellent reputation. Let us help you reach your potential today!
State-of-the-art facilities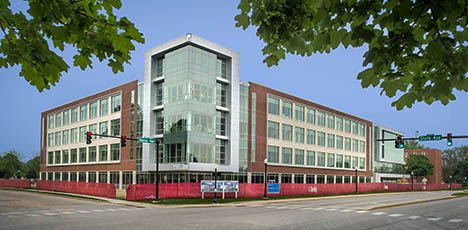 Beginning in Fall 2015, the School of Occupational Therapy will join the University's other health care and wellness-related disciplines and industry partners in UIndy's new Health Pavilion, which will provide clinical facilities to serve the community and classroom and lab facilities for academic and research endeavors. The Health Pavilion will be an integrated hub where faculty, students and healthcare professionals can collaborate on education and research.