Athletic Training Facilities
Classroom and study facilities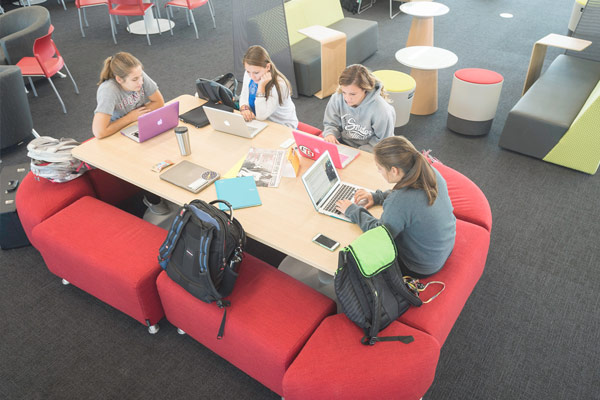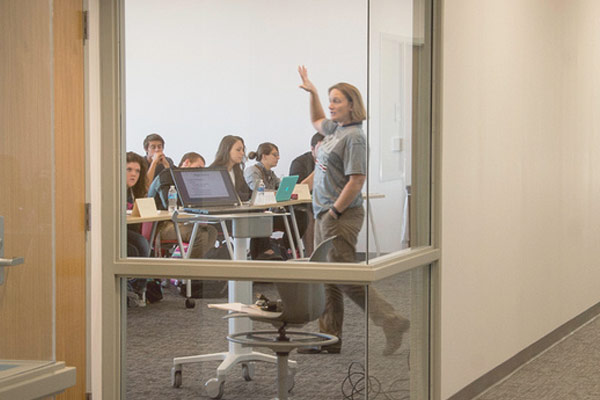 Our main athletic training classrooms in the Health Pavilion are furnished with treatment tables for practicing injury assessments and treatment modalities, as well as anatomical charts, models and a full skeleton with audiovisual capabilities.
Students will also have learning opportunities in the nursing simulation lab. The high-fidelity mannequins can simulate an athlete suffering from an illness or injury that athletic training students would be unlikely to experience in other on-campus clinical training sessions. These scenarios allow students to learn assessment and intervention techniques and be better prepared for emergencies.
The Health Pavilion also brings plenty of open gathering spaces for individual study, collaborative work and socializing.
On-campus clinical facilities
UIndy's athletic training clinical facilities include spaces for providing pre- and post-practice treatment to all Greyhound athletes. One athletic training facility is located in the lower level of the Ruth Lilly Center, while the other is housed in the Athletics & Recreation Center. Both facilities are fully equipped for evaluation and treatment of athletic injuries, performed under the supervision of certified athletic trainers. Together, these environments help foster the necessary athletic training skills for certification.
Athletics & Recreation Center
Known for being the practice site for Super Bowl champion New York Giants in 2012, The UIndy Athletics & Recreation Center (ARC) features an inflated indoor dome and has 90,200 sq. ft. of space for sports teams and academic programs.
Along with fitness facilities for the entire campus community, it houses an athletic training facility, batting cages, an indoor track, an expanded weight room, a golf practice facility and locker rooms for football, men's and women's soccer, men's and women's track and field, softball and baseball.
Ruth Lilly Center for Health and Fitness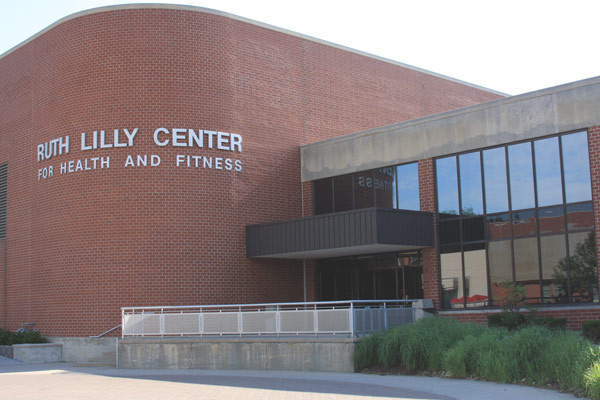 The Ruth Lilly Center for Health and Fitness houses an athletic training facility, classrooms, an eight-lane, 25-yard pool with a separate 13-foot-deep diving well, three racquetball courts, a wrestling room, fitness center with cardio and resistance equipment, group exercise room and basketball courts.
Therapy areas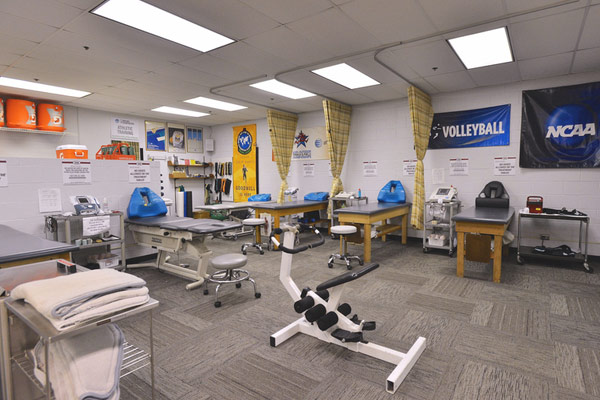 UIndy's therapy areas are comparable to any rehabilitation or sports medicine clinic. Along with multiple hi-low and treatment tables, you'll find electrical muscle stimulation and ultrasound machines, as well as equipment for rehabilitation and strength testing.
Taping areas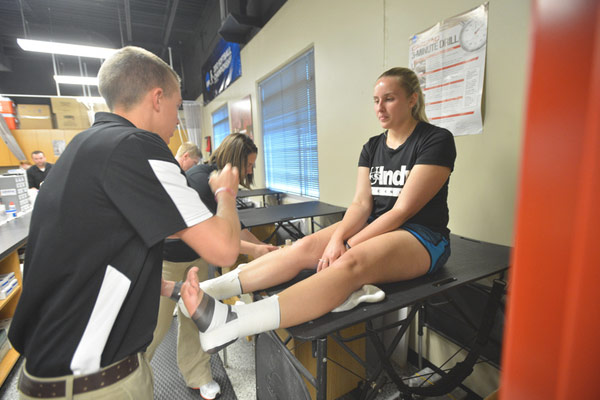 Our taping stations, with easily accessible supplies and storage areas, allow athletic training students to comfortably tape and pad athletes before any practice or competition.
Hydro areas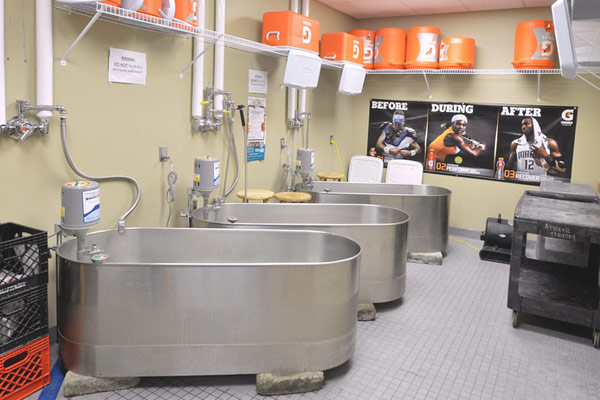 The multi-station hydrotherapy areas provide both thermotherapy and cryotherapy treatment options for musculoskeletal injuries. The facilities also contain an ice machine and cooler storage.