Browse Department
Top-notch education in vibrant sports mecca
UIndy is situated near the NCAA headquarters, professional sports teams and world-renowned sporting events, adding all the prestige and opportunity you desire in an athletic training program. But that's not the only advantage. In small classes and clinical settings, our faculty work right alongside you, providing personal guidance for mastering the prevention, clinical diagnosis and treatment of injuries and illnesses.
Stay ahead of the hiring trend
Like other health care professions, athletic training has undergone many changes in the last few years. Recently, the Athletic Training Strategic Alliance, led by the National Athletic Trainers' Association (NATA) and the Commission on Accreditation of Athletic Training Education (CAATE), announced that the standard for the professional athletic training degree would move to the master's level. While accredited colleges and universities still have five years to adopt this change, UIndy's early transition to a graduate level athletic training program will allow our graduates to meet shifting employer demands and ensure that we are developing the most qualified health care professionals.
Raising the bar in clinical practice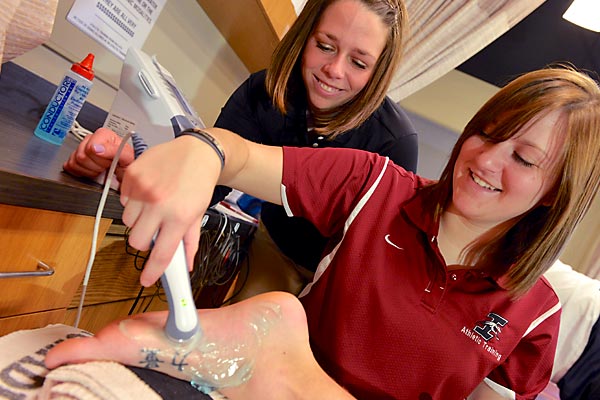 At UIndy, we know it's important for you to get practical experience early and often in your education. With five clinical rotation semesters built into the curriculum, including three full-time clinical placements, you'll put core classroom concepts into action.
Learn more about clinical experience ►
Certification-ready
You can expect to graduate well prepared for the Board of Certification exam. In recent years, 100% of our graduates became certified.
Ready to apply?
Applications for the 2018 cohort opened on June 29, 2017. The deadline for priority consideration for the 2018 cohort is January 5, 2018. Applications will remain open until the cohort is filled.