Secondary & All-Grade Education major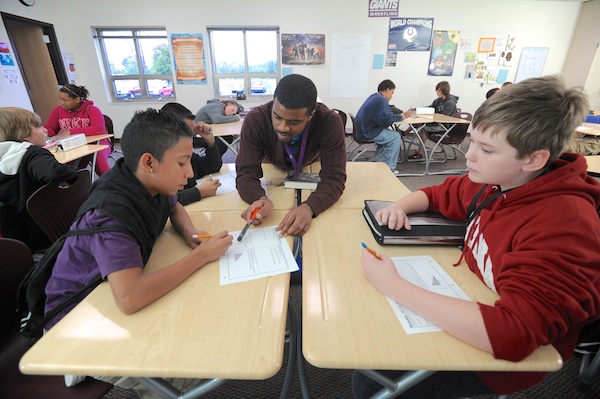 UIndy's secondary education program prepares you to teach middle and high school levels (grades 7-12) through preparation in both teacher education and a full liberal arts major in your chosen subject area. Our all-grade education program prepares you to teach art, music or health/physical education in grades K-12. The carefully-designed curriculum also allows you to earn a Mild Intervention (special education) license.

Employers talk about working with
UIndy education graduates.
UIndy is within a 15-minute drive of more diverse school settings than anywhere else in the state, including public, private, charter, multiage, Montessori, Reggio Emilia and International Baccalaureate schools.
"The practica and student teaching were the most valuable of my education courses because I actually got to go into schools and teach classes. My courses prepared me brilliantly for the curriculum. I have no gaps in knowledge due to the excellent curriculum at UIndy."
Meagan McCann
Middle/High School Subjects
To be eligible for a middle/high school teaching license, you must take at least 36 credit hours in your chosen subject area, meaning you'll have a full liberal arts content major, in addition to your education courses. You can complete the program in four years. To make sure you stay on track, you'll have two academic advisers—one in the Teacher Education department and one in your subject area department. UIndy offers the following secondary teaching majors:
All-Grade Subjects
To be eligible for an all-grade teaching license, you must take at least 56 credit hours in your chosen subject area. To make sure you stay on track, you'll have two academic advisers all four years—one in the Teacher Education department and one in your subject area department. UIndy offers the following all-grade teaching majors:
Program Strengths
Small classes where you'll work closely with faculty in both Teacher Education and your content area to gain the knowledge and skills to be effective and engaging teachers
An atmosphere that helps build necessary skills, such as collaboration, problem-solving and creative expression
Multiple field opportunities each of the four years of the program, including diverse field experiences at urban, suburban, charter and private schools under the on-site supervision of Teacher Education faculty
Methods classes held on-site in local secondary schools help you connect classroom theory with actual practice
Opportunities to learn how to use state-of-the art instructional technology to increase student learning
Opportunity to earn a Special Education license, along with the secondary license, in four years
A variety of volunteer and service opportunities allow you to gain valuable experience with kids while also giving back to the community
Real Classroom Experience
At UIndy, we believe that in order to be a great teacher when you graduate, you need hands-on experience in schools throughout your college education. In our program, you'll be in local classrooms beginning with your first semester of freshman year. Here's what to expect:
Freshman year: You'll visit a variety of school settings and grade levels in the Indianapolis area to help develop your content knowledge and get a feel for what it's like to be a teacher. These structured classroom visits and follow-up seminars help you reflect on the complex issues related to teaching in the 21st Century.
Sophomore year: You'll continue to fully participate in a variety of classroom settings as you explore how children grow, how learning occurs and how culture and special needs impact learning. These courses provide a foundation for future methods classes.
Junior year: Methods classes are taught on-site in secondary schools and include multiple field experiences to learn, practice and improve your teaching skills in real school settings.
Senior year: During your senior year, you'll participate in two eight-week student teaching experiences in both the middle and high school levels. You'll have opportunities to co-teach and apprentice in two distinct school settings in Indianapolis-area metropolitan and suburban classrooms. These student teaching experiences enable you to meet many new colleagues and prepare you to teach in your own classroom once you graduate.
Additional License
Mild Intervention
A Mild Intervention (special education) license gives you additional background and education to help you work with all types of learners. Because special education is a high-need area in many schools, this license may provide additional career options. This program offers you a variety of hands-on field experiences, and, since many of the requirements are already embedded into our curriculum, you'll take just three extra classes to obtain this credential.
Reading
To earn a reading license, you'll complete advanced work in the vital areas of reading assessment and instruction. You'll learn how to identify a student's strengths and weaknesses, design individualized instruction based on the student's specific needs, and measure the student's progress towards learning goals. During student teaching, you'll attend a specialized reading seminar and will be mentored by teachers recognized for their expertise in reading instruction.
Admission to the Program: Gateways to Progress
You are formally admitted to the program after your sophomore year and satisfactorily completing several requirements, including prerequisite courses and a written case analysis and interview. Complete details are available in the School of Education Handbook.
---
Curriculum Guides
These curriculum guides outline the classes you'll need to take as an Secondary/All-Grade Education major. The general education curriculum guide lists your class options and requirements to fulfill UIndy's general education requirements, while the subject area curriculum guides list the classes needed to major in Secondary/All-Grade Education for that subject. You'll need to look at both guides to get a complete picture of what classes you'll take at UIndy.
Secondary Education Subjects
All-Grade Education Subjects