Cost & Financial Aid
Noyce Grant Scholarship Stipend
A limited number of stipends to cover the cost of tuition are available to qualified individuals. Recipients of a stipend must meet specific requirements and agree to serve as a STEM teacher in a high-need local education agency for two years. Once you are accepted into the Teach (STEM)³ program you will be invited to complete a separate application to be considered for a stipend. Important details and dates to apply will be provided to you in your acceptance letter or shortly thereafter. Stipend payments may be combined with loan dollars (aid) to help offset fees and living expenses during your program.
Program Tuition & Fees 2017-18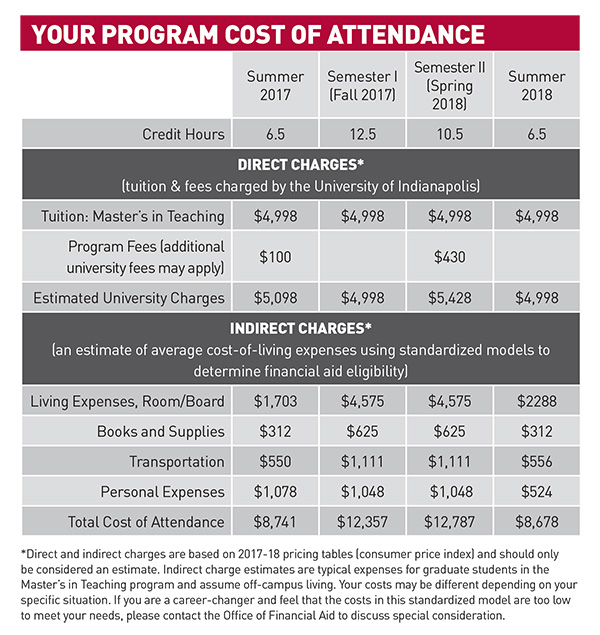 *Direct and indirect charges are based on 2017-18 pricing tables (consumer price index) and should only be considered an estimate. Indirect charge estimates are typical expenses for graduate students in the Master's in Teaching program and assume off-campus living. Your costs may be different depending on your specific situation. If you are a career-changer and feel that the costs in this standardized model are too low to meet your needs, please contact the Office of Financial Aid to discuss special consideration.
Understanding your financial aid process
Maintain at least half-time status
Graduate-level programs, such as the Teach (STEM)³ Program, require that students be enrolled at least half-time, or 4.5 credit hours each semester, in order to remain eligible for aid. The University has designed its Teach (STEM)³ Program course schedule to ensure that you maintain half-time status throughout the program. If you have previous loans in repayment, UIndy will report your enrollment status to your lender/servicer monthly. This reporting will help you defer your student loan repayment period.
File the FAFSA
Teach (STEM)³ students will file an initial FAFSA prior to their first summer semester in the program and a subsequent FAFSA for the remaining three semesters. These two federal applications are required if you plan to use federal loan programs to defray your program expense.
New to 2017-18
Starting the 2017-18 academic year, students will use financial information from their "prior prior" tax year (i.e 2015 tax year). Use of prior prior tax year data allows more students to use the IRS Data Retrieval tool to link tax information directly into the FAFSA.
IRS Data Retrieval Tool
Traditionally, you may retrieve your federal tax information directly from the IRS as you file your FAFSA by utilizing this tool. However, the IRS has temporarily disabled this functionality. Therefore, all students will utilize their 2015 federal tax return to enter their tax information manually during this outage period. Students who should never use the tool are those who are married but file separate taxes from their spouse or those who filed jointly in 2015 but are now separated, divorced, or widowed.
Submit UIndy Aid Applications
Submit an online Summer 2017 and a 2017-18 Academic Year UIndy Application at apply.uindy.edu. Registration prior to submitting summer's form is required.
Respond to requests
The U.S. Department of Education and/or the University of Indianapolis may contact you to request additional information related to your FAFSA or UIndy Aid Application.
Award letter
Watch for your official award letter, which will be sent once all applications have been received and reviewed. Respond to award letter instructions to accept or request a different dollar amount in Direct Stafford loans than the package indicates.
Loan disbursement and credit balance
Federal regulations allow UIndy to post aid dollars automatically as a direct payment to your tuition and fee charges. Most aid will post 10 days prior to the start of a new semester as long as all financial aid applications are complete. A credit balance (refund) will generate if your aid exceeds your direct charges and will be payable through your BankMobile refund method on the first day of each semester. Learn more about the BankMobile process, or contact UIndy's Bursar's Office at 317-788-3221 for questions.
Loan programs for you
The following loan programs are available for students applying for the Teach (STEM)³ program:
Federal Direct Stafford Unsubsidized Loan
Federal Direct Graduate Plus Loan
Alternative Loans
For loan program details, explore Financial Aid for Master's and Doctoral Students.
BBAY (Borrow Based Academic Year) Loan Limits
Every two consecutive semesters, you may borrow up to your annual Direct Stafford loan amount, not to exceed the total cost of attendance (COA), or budget per semester. Your expected family contribution (EFC) and other aid you received will be included when calculating your eligibility.
Other financial aid considerations
Cancellation and deferment options for teachers
If you teach in a low-income or subject-matter shortage area, it might be possible for you to cancel or defer your student loans.
Learn more about the eligibility requirements for teacher loan forgiveness and deferment ►