iLEAD Courses
Candidates with a master's degree
Candidates who have already earned a master's degree must complete 24 credit hours for principal licensure.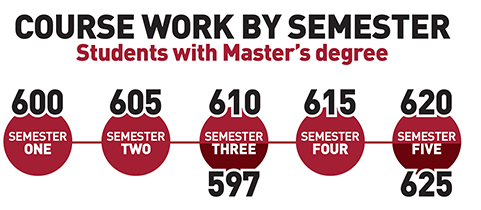 The following courses are required:

The goal of iLEAD has always been to produce educators ready to operate at a high level in building administration. Topics such as community partnerships and school law have always been mainstays; with the addition of this course, our
students will gain even deeper practical knowledge of managing a high performing school.

Material covered includes:
– Details of school budgeting in Indiana
– Indiana school funding formula
– Interplay of operational factors
– Effective data utilization in decision making

To reinforce the practical approach of this course, students will examine their own building-level budget as well as current state and local fiscal practices. We believe this course serves as invaluable preparation for the future administrator and makes an excellent compliment to our current curriculum.
This course explores the central theme of "a vision of learning" to promote student success through purposeful and ethical leadership. The literature base on effective schools serves as an overarching framework to understand the urgent call for school redesign and the leadership capacity that is necessary to achieve large-scale transformation. The process of change is used as the basis for planning and implementing school-wide redesign. Candidates learn how to develop and sustain a shared vision and mission that focus on continuous school improvement through a recurrent process of communication, evaluation, and revision with all stakeholders. The course highlights the leadership practices and responsibilities that are highly correlated with student learning. Candidates study their own leadership style, characteristics, and beliefs to determine personal changes that may be necessary to enhance their roles as principals. Candidates confront and examine the requisite knowledge, skills, and processes necessary to facilitate collegiality and teamwork in order to establish a professional learning community that honors diversity, a commitment to the success of all students, and the exercise of distributed leadership. Candidates become familiar with content standards and focus specifically on recognizing and leading instructional best practices. 4.5 credit hours
This course enables school leaders to enhance their understanding of how consistent and systemic use of data shifts school cultures toward learner-centered communities that recognize achievement gaps in learning among student populations. Through the analysis of data, candidates learn a process for collaboratively inquiring with school faculty to identify significant student learning problems, design research-based intervention strategies, and monitor effectiveness, which contribute to building school capacity and instructional expertise. Through data-driven dialogue, candidates practice and learn facilitation strategies to establish high performing teams and enhance personal accountability. In addition, candidates understand the cultural factors associated with the development of professional learning communities and the hierarchy of interventions that are required when students do not learn. Candidates explore achievement gaps related to minority and special populations and recognize how their personal belief systems and expectations may impact schooling practices. A focus on literacy or math content will enable candidates to frame a context in which to explore issues related to diverse learners and equitable practice. In order to apply theory and extend their knowledge of course content, candidates engage in a variety of field-based activities to broaden their understanding of the roles and responsibilities of principal leadership. 4.5 credit hours
This course is based on the premise that the quality of professional development for school-wide improvement is determined by quality of the decisions that drive it. The course content prepares candidates to make decisions that can serve as the foundation of a successful professional development program. Starting with a focus on data-driven identification of student learning and accompanying teacher learning needs, candidates examine their own assumptions and beliefs about professional development and reflect on the critical attributes of successful professional development programs. Connections are made between professional development design, education standards, and systemic change. Candidates learn to consider job-embedded and collegial approaches to adult learning and gain skills in planning and implementing professional development. The course addresses the process of guiding professional development through the Concerns Based Adoption Model to assess implementation strategies. Additional systems that assess change at the classroom level and promote reflective practice are explored by studying models such as classroom walk-throughs and data-walks. A focus on exemplary programs of practice across curricular areas offers the candidates images of best practice. 1.5 credit hours
This course addresses the requisite knowledge, performances, and dispositions necessary for a school leader to collaborate with families and community members, respond to diverse community interests and needs, and mobilize community resources. Candidates study the meaning of collaborative leadership and the actions necessary to build working alliances. Much attention is focused on the strategies needed to connect across multiple and diverse community boundaries. Such strategies focus on how to build and manage relationships, remove organizational boundaries, generate trust, and balance competing and shifting requirements to construct effective and sustainable partnerships. Enacting these strategies is necessary for the redesign of extant school structures into more transformative and personalized learning communities. Candidates explore different schooling models and study the research base that supports each one. Candidates also become familiar with an emergent body of research regarding school, family, and community collaboration around schooling issues. A focus on best practice in the fine and practical arts provide a contextual frame to link this content to increasing student and school success through community partnerships and collaboration. In addition, candidates explore the philosophy of integrated curriculum as a means to generate a holistic approach to education and prepare students with a set of multiple literacies. 4.5 credit hours
This course addresses the skills and performances necessary to ensure the management of the school's operations and resources to establish a safe, efficient, and effective learning environment. Candidates learn how to balance management and leadership by applying an organizational change leadership framework. Within this framework, candidates learn how to use systems thinking and root cause analysis to determine underlying structures and patterns that drive actions and thinking in the school. To increase knowledge of management responsibilities, candidates become familiar with governance procedures at the school and district level, issues involving financial, human, and material resources, and current technologies which support management functions. Models of teacher evaluation and clinical supervision are discussed and practiced. Issues of policy and procedure are framed around the study of legal and ethical issues relating to administrative practice and problems encountered in school contexts. This course also provides school leaders with information regarding special education policies and procedures including models of best practice to integrate general and special education systems and curricula. 3 credit hours
This course will emphasize systemic, logical processes in decision-making while building a foundation of knowledge in education law to better inform the school administrator in addressing the many issues that the school administrator will confront in the performance of such duties. Federal and State law will be interwoven with case-based controversies. 3 credit hours
---
Candidates without a master's degree
Candidates who have not earned a master's degree must complete 36 credit hours to earn a Master of Arts degree in Educational Leadership.
The following courses are required in addition to the courses above:
This course focuses on the processes of designing, implementing and evaluating curriculum. The roles of various persons (e.g., students, teachers, administrators, parents, scholars) in the development and management of curriculum are considered. 3 credit hours
Learn instructional models that are both research-based and classroom-tested. Techniques to improve student achievement, including literacy strategies and 21st century skill-building are explored. Factors affecting student learning are addressed. Course includes reflective analysis of present instructional strategies. Direct application to classroom situations is emphasized. 3 credit hours
This course prepares school leaders in a model of balanced assessment that focuses on classroom assessment for learning and standardized assessments of learning. The school leader will understand standards of quality for student assessments and how these standards are met in all assessments. Moreover, the school leader will learn how to develop assessment-related policies, collaborative learning teams, and comprehensive systems to improve curriculum and instruction. The school leader will confront the historical uses of assessment as a control and sorting mechanism, and acquire a new vision of assessment as a powerful motivator for student learning and achievement. 3 credit hours
A basic course in methods of research in education; the planning and conducting of a research study; the development of skills in problem identification, data collection, analysis, interpretation, and preparations of research statistics. 3 credit hours