iLEAD Principal Preparation Program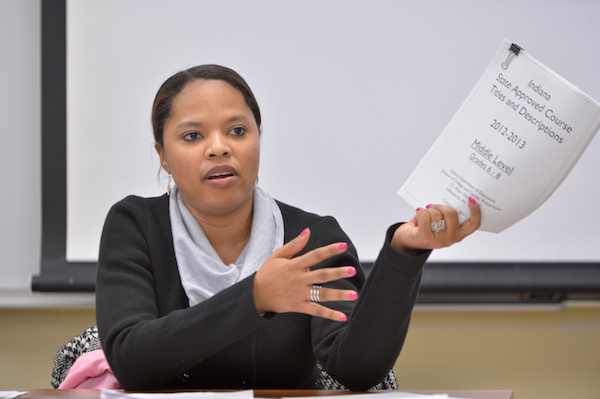 iLEAD (Inspiring Leadership in Education through Application and Dialogue) is an NCATE-accredited graduate education program that merges theory and experience in all areas of school leadership. Students gain a deep understanding of schooling issues through interactive class dialogue, and use that knowledge to design projects around research-based solutions. Students will then be able to apply those strategies in field experiences as they learn to carry out the day-to-day responsibilities that characterize 21st century schools.
Format
iLEAD is a cohort-based program delivered through a convenient hybrid learning format designed for working adults. Students meet on campus five Saturdays per semester and receive online instruction in the interim weeks.
Program length
The program is 24 credit hours for individuals who already have a master's degree and 36 credit hours for all other students. It is generally completed in 18 months.
Tuition
Tuition for the 2017-18 academic year is $428/credit hour. This program has only one additional fee of $100 required for the Tk20 system – the data software used in each semester for posting projects, mentor assessments, field experience documentation and other information. Check out your financial aid options ►
Class times and location
iLEAD classes meet on select Saturdays from 8 a.m. to 2:30 p.m. and from 2:30 to 5:30 p.m. in an executive style format on the UIndy campus. See the program schedules in the menu for more specific schedule information.
"Surveys, evaluations, research and other products I produced for class have been used to improve student learning for our kids. The knowledge and experience I have gained so far in the iLEAD program have made me a better teacher and more helpful member of our school's leadership team."
Dustin Adams
K–12 Assistant Principal for Eminence Community Schools
Program design and curriculum
The iLEAD curriculum is rooted in problem-based and project-based learning activities. Each course builds on identifying school learning problems and improvement strategies through in-class and online instruction, analysis of case studies and data collection, use of simulations and games, and individual and group projects. Rigorous field experiences are also embedded in each course. View the course guide ►
Mentorship
Students meet at least once a month with a mentor who serves or has served as a school leader, to receive coaching on course problems and assignments, or guidance in situations they may be facing in field experiences. Each mentor will also provide the student with an end-of-semester evaluation. By walking in the shoes of an expert, students are able to think more critically about schooling and leadership issues, as well as the political and social ramifications of decisions.
Licensure
Graduates who have completed the Master of Arts in Educational Leadership program may pursue licensure in Indiana as a building-level administrator after achieving qualifying scores on the Pearson Indiana Leadership test. iLEAD has received full national accreditation from the Educational Leadership Constituent Council (ELCC).
When can I start?
Candidates who meet all admission requirements can join the program at the start of a new cohort in May.
Congratulations to our December graduates of Cohort 19!