School Partnerships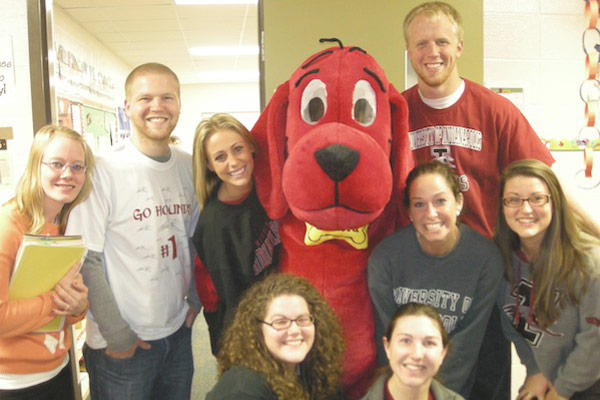 UIndy's School of Education partners with several local school districts to provide our students with multiple opportunities for hands-on experience.
The University of Indianapolis partners with several local school districts to provide our students with multiple opportunities to observe and get hands-on experience in a variety of school settings throughout the four-year program. Education students who participate in at least 450 hours of field experiences become more effective teachers and are more likely to remain in teaching. Through the many applied learning opportunities we offer, you'll far surpass this number by the time you graduate. In addition, our faculty are on-site at all field experiences to make sure you get the most out of each opportunity.
The quality of our partnership programs has received national recognition! The department received the 2013 Model of Excellence Award in the Partnerships category from the national Association of Independent Liberal Arts Colleges for Teacher Education.
UIndy's extensive partnerships with area schools provide a wealth of opportunities for our students. Here's how:
Decatur Township
Methods classes and field experiences are held on site at several elementary schools, rather than on the UIndy campus. This allows our students to work directly with elementary schoolers in math, reading and science.
UIndy students tutor middle schoolers to help them prepare for the ISTEP test and coach them on organizational skills and preparing for college.
The Student Education Association sponsors Dr. Seuss Day. UIndy students read Dr. Seuss books to first and second graders and lead activities to help reinforce the concepts in the books.
The partnership is deepened through our strong alumni connections. Numerous UIndy alums are teachers and administrators in the district.
The Decatur School Board recently recognized UIndy's contributions to the school system (see photo at right)
Perry Township
Southport High School hosts Secondary Education majors during their intense high school practicum. UIndy professors work on-site with Southport faculty to help UIndy students learn best practices for high school teaching.
Elementary education students work with second graders as part of the CaLUB (UIndy science club) community outreach to organize "minds-on" science experiences. This helps elementary schoolers get excited about science and helps UIndy students learn to take what they learn in college-level science courses and make it applicable for second graders.
UIndy faculty and Perry teachers train and work together on co-teaching and teacher evaluation systems to ensure that UIndy graduates have the skills they need to thrive in today's changing classroom environment.
Christel House Academy
Christel House Academy is a unique public charter school that targets under-served student populations.
Located just five minutes from the UIndy campus, Christel House Academy is a key site for early observational field experiences and offers student teachers an opportunity to work with a diverse population of students and teachers.
UIndy juniors have the opportunity to develop math lesson plans and teach them to small groups of students. Throughout the experience, UIndy students have a chance to create and implement lesson plans, see how well they work, and receive feedback from both UIndy and CHA faculty, as well as their fellow students.
UIndy professors and students are working with Christel House to develop a Math and Science Family Night. Activities like this ensure that UIndy students also are prepared to work with families.
Wayne Township
During the fall of their junior year, UIndy secondary students attend classes and participate in extensive field experiences at Lynhurst 7th and 8th Grade Center where they have multiple opportunities to work with teachers and students in their chosen content areas.
Wayne Township schools host many of our student teachers at all levels, ranging from elementary to high school. Student teachers at these sites have opportunities to experience cutting-edge teaching strategies, such as project-based learning (PBL).