Education Student Organizations
Through UIndy's School of Education, you can get involved in student organizations that help you gain valuable professional experience and connect with other students who share your interests.
Student Education Association (SEA)
The Student Education Association works to help students develop a better understanding of the education profession through activities outside of class assignments and projects and offers future teachers a variety of professional development opportunities. Through this organization, you can connect with professionals in the education field, develop leadership skills and participate in community service.
Kappa Delta Pi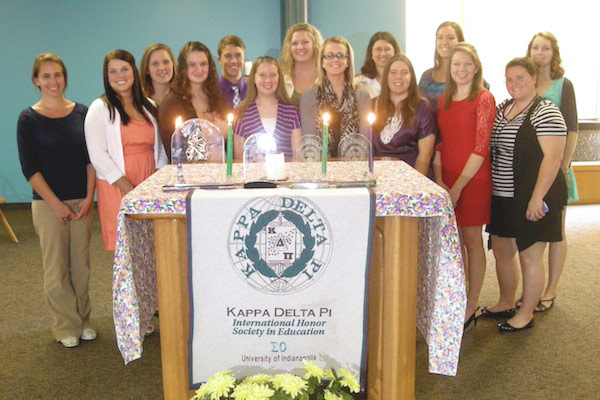 UIndy's Sigma Omicron chapter of Kappa Delta Pi (KDP), the international honor society in education, provides leadership and professional development opportunities for juniors, seniors and recent graduates who are in the top 20% of their initial licensure programs, including elementary or secondary education, MAT and Woodrow Wilson fellows. The chapter has been recognized as one of the top chapters in the nation and has received the ACE (Achieving Chapter Excellence) Award every award year since 2005. In 2013, the chapter received the Dr. Florence B. Stratemeyer Award for Chapter Excellence, the highest award given to chapters.
Students involved in KDP exemplify leadership and service in education on campus and in the community. Each year they sponsor several signature events that provide professional development and networking opportunities for members and fellow Teacher Education students, including:
KDP Literacy Alive! Service Project – Each January-April our chapter develops a service project to promote literacy with students in area schools.
KDP iLEAD Practice Interviews - Each March, graduating teacher education students refine their interviewing skills with graduate students from the iLEAD principal preparation program before entering the job market.
KDP "Conversation with Teachers" Series


Fall Conversation with Urban Teachers - A panel of teachers from Indianapolis-area schools shares insights for working in urban schools.
Winter Conversation with Teachers of Diverse Students – A panel of teachers of students who have varied learning, language, physical, and performance abilities shares advice for ensuring success with a variety of learners.
Spring Conversation with Beginning Teachers – A panel of recent UIndy graduates shares their experiences from their first year of teaching and gives advice for applying and interviewing for jobs.
KDP members also receive honor cords to wear at graduation. For more information about the national organization, visit www.kdp.org.
"Through Kappa Delta Pi, I was able to attend different workshops and convocations where I learned valuable information and was able to network with other teachers and share ideas."
Kristin Nick
Save