Career Information & Job Support
Job support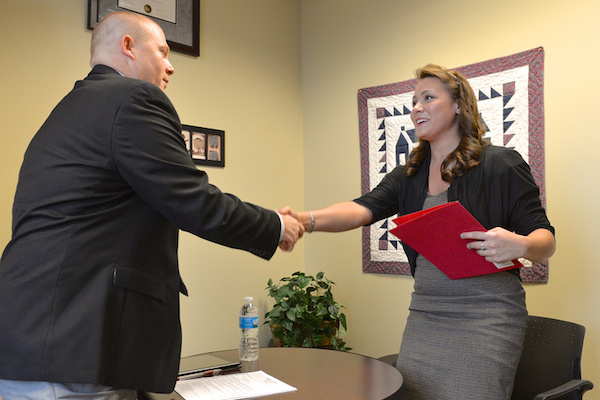 At UIndy, support doesn't stop at graduation. We're committed to helping our students find their first jobs so they can hit the ground running once they complete their degrees. In fact, 100% of students in our most recent class had jobs lined up after graduation. Here's how we help our graduates get started with their teaching careers:
Interaction with area schools
We make sure that our students have significant opportunities to be in actual classrooms beginning in the freshman year. While you'll meet and interact with education professionals throughout your four years at UIndy, we provide support during the senior year and student teaching experiences. Student teaching seminars include multiple guest speakers from a variety of local schools. These experts provide our graduates with the most current information related to securing teaching positions.

UIndy alumni discuss the benefits
of earning a degree in education.
Teacher Candidate Interview Day
UIndy participates in Teacher Candidate Interview Day, an annual collaboration of several private colleges that gives new graduates the opportunity to interact with more than 100 school districts from Indiana and other states.
Strong alumni network
UIndy has a strong network of loyal alumni who are continually providing UIndy faculty with information about teaching opportunities.
"UIndy focuses on career preparation and the professional development of their students. Throughout my undergraduate career, I have had many opportunities to expand and apply my course content."
Anna Elzer
A quality start to your teaching career
National Accreditation
The University of Indianapolis is accredited by the National Council for Accreditation of Teacher Education (NCATE), the oldest teacher accreditation organization in the country.
"I felt really prepared to be a teacher and I felt comfortable interviewing for a teaching position. I can't remember a time when there wasn't a hands-on experience that helped me become a great teacher. I was taught how to be resourceful and creative and how to transfer that energy over to my students. When I was student teaching, I was ready to jump in and my cooperating teachers could tell that I had experience."
La'Kia Moore-Scott
Teaching in other states
Because Indiana's teacher education requirements are considered to be some of the most rigorous in the country, our students are well-prepared to become licensed in other states. The Indiana Professional Standards Board has a license reciprocity agreement with more than 40 states, meaning if you get an Indiana teaching license and move to a reciprocity state, you will be granted a one- to two-year license in that state while they review your qualifications compared to that state's standards.