Browse Department
The School of Education is proud to build upon its strong reputation for producing great teachers to be the first to offer a cutting-edge interdisciplinary Elementary Education STEM program. It's fresh, novel, and innovative approach to teacher education is unlike any in the country.
Eligible for three IN Teaching licenses & a STEM Concentration
Embedded into the 3.5 year program are all the course requirements for UIndy to recommend Scholars for Indiana Elementary, Mild Intervention (Special Education), and Reading licenses.
Graduate in 3.5 years
Mirroring the K-6 calendar, Scholars will attend classes and participate in field work from August 1 to May 30. This extended college calendar will allow Scholars to graduate one semester early.
K-6 Classroom Field Experiences
Scholars will work in K-6 schools from the first to the last semester which culminates with a full-time student teaching experience. K-6 classroom experiences connect to college class content. As Scholars develop a deeper understanding of how and what to teach, their level of responsibility for planning and teaching K-6 students also increases.
The University of Indianapolis School of Education revised program will build on its strong reputation for producing great teachers.
Develop the Characteristics to Become Transformational Teachers
Through multi-year, multi-age courses, freshmen through seniors will gather to share and build upon each other's experiences and interests. These courses are designed to create Transformational Elementary Education Teachers who are able to be a(n):
Communicator
Collaborator
Learner
Leader
Innovator
Problem Solver
Researcher
Advocate
"My UIndy education over-prepared me for my career, and that is the best kind of preparation you can have in the world of education."
Ben Bertoli (Class of 2011)
Additional Transformational Characteristics
Cohort Model - Each year, Scholars take education courses with other Elementary majors allowing them to create smaller academic communities within the larger UIndy setting. The Cohort Model also allows Scholars to work closely with UIndy faculty as they develop the knowledge and skills to become effective teachers.
Diverse Opportunities & Experiences - Scholars will work in urban, suburban, charter, and private schools to determine which setting best fits them. In an effort to teach Scholars how to create, develop, and nurture relationships within the local, global, and international community, Scholars will also work within the Indianapolis community through supervised classes and have the opportunity to travel internationally.
High Job Placement - The Elementary Education Graduates have enjoyed a 100% job placement rate for the last three years. Many Scholars accept teaching positions in Indiana, though some Scholars choose to teach outside Indiana.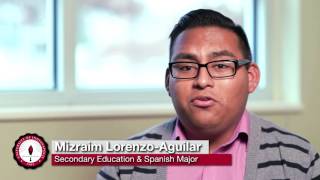 Apply Now SOE Scholarships Schedule a Visit
Follow UIndy School of Education

@UIndySOE

@UIndySOE

@UIndySOE