Technical Theatre
Virtually every production has a team of student designers who work with faculty, staff and guest artists to design costumes, hair/makeup, lighting, scenery and sound.
Our curriculum encompasses all aspects of theatrical design and production, with studio classes that teach fundamental skills and productions throughout the academic year that allow you to put what you learn into practice.
---
Building your design and technical theatre experience
As a team of professionals with careers in the industry, we know that quality theatrical design and tech demands imagination and experience. This is why we focus on practical experiential learning to nurture an environment that is built to produce knowledgeable and skilled designers and technicians.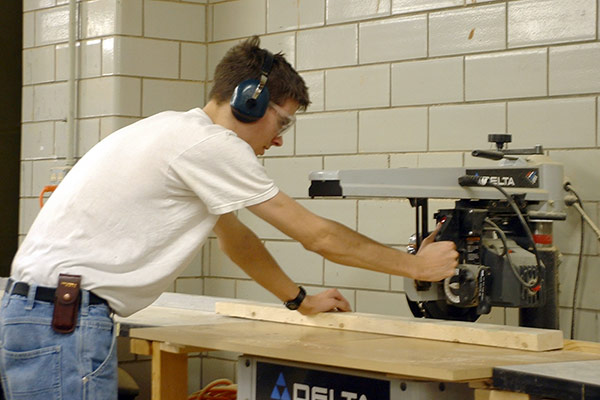 While at UIndy, you'll have opportunities to build your technical theatre and design skills through:
Engaging in hands-on opportunities during your first year. As your skills and knowledge increase, so will your responsibilities. Every crew has a student crew chief giving you supervisory experience.
Planning and managing events for non-department campus groups and off-campus organizations through the student-run organization, Greyhound Production Services.
Working as a student manager. Each year we hire 8-10 students to serve in leadership roles in various specialty areas in the department. These roles give you valuable career experience, resume builders and supervisory experience. Students must apply for these positions and are hired for the entire academic year under the standard university pay rate.
Using the latest technology in our productions and training
Working side-by-side with guest artists–professional designers, directors, choreographers, stage managers and technicians–whom we frequently hire to work on productions.
Being an assistant designer. Virtually every designer offers the opportunity for students to be assistant designers under them.
Learning how to analyze a play for production, not just its literary elements
Learning about theatre history to put plays in their historical context
Taking our seminar courses that culminate in a Senior Capstone experience in which you present your professional technical theatre or design portfolio, ready for real-world interviews after graduation.
Getting involved in a large and growing local theatre community in Indianapolis.
-