Physics Major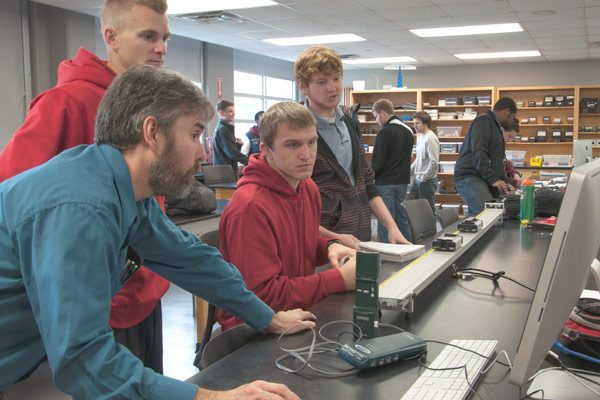 In the physics major at UIndy, professors will work with you to steer you in a direction that most fits your interests, no matter what the research project. From studying the science of motion to using radio telescopes to measure the Earth's orbit, you will use theoretical knowledge from your classes to create your own projects.
Program strengths
We consider your individual interests in the realm of physics to play a large part in your success at UIndy. Expert professors act as guides for the research projects you wish to conduct. This only is possible because of:
Small, limited class sizes and specialized mentorship
Focus on research interests based on theoretical concepts
Upper-division courses aimed at student interests
Computing experiments that often receive grant money
Concentrations
Along with creating your own research projects, you can focus your interests by choosing from one of three concentrations in physics:
Laboratory instrumentation: Focus in electronics design and microprocessor software development
Scientific computing: Focus in computer technology, including computer modeling, visualization and simulation
Concentration by design: Students can work with an advisor to develop a concentration unique to their personal learning goals
Other options include:
Choosing no concentration
Potential careers for physics majors
A physics degree qualifies you for careers both in the realm of physics and beyond. Career opportunities are vast and can be highly specific to the research you conduct and specialize in. Here are just a few ideas to get you started:
Lab technician jobs
Lab supervision in medical, chemical or acoustics labs
Industrial science jobs
Researching in numerous physics-related fields
Middle or high school education
Physics might be for you if:
You are fascinated by the laws that govern the natural world
You work well independently and in small groups
You like to conduct projects and experiments
You enjoy asking hypothetical questions and looking for answers
---
Curriculum Guides
These curriculum guides outline the different classes you will need to take as a physics major. The general education guide provides a list of all the classes you need in order to fulfill UIndy's general education requirements. The physics curriculum guide lists the classes you'll need to take to fulfill your major's requirements. Be sure to take a look at both guides in order to get a complete picture of what your classes will look like at UIndy.