Physics & Earth-Space Science Facilities
UIndy's science facilities for physics and earth-space science allow students to practice and explore the theories they learn in the classroom and labs. From the telescopes at the top of Lilly Science Hall to the glass cases in the hallways filled with paleontological specimens, these facilities play a huge role in your education.
Noblitt Observatory
With 8-inch reflector and 8-inch refractor telescopes, the Noblitt Observatory stands atop the Lilly Science Hall and is used in courses such as Astronomy to combine theory with hands-on, practical projects.
H. Merrill Underwood Geological Collection
This extensive collection of paleontological artifacts specifically from Indiana is used frequently to practice identifying and analyzing stone and fossils.
Geographic Information Systems (GIS) Computer Mapping Lab
Linking data, hardware and software, the GIS lab allows students to analyze geographical information and patterns to use in the course of their research projects.
Five-meter Radio Astronomy Dish Antenna
Tracking naturally occurring radio emissions from stars and planets, the radio dish antenna allows students practice astronomical mapping and develop research projects.
3-D Printer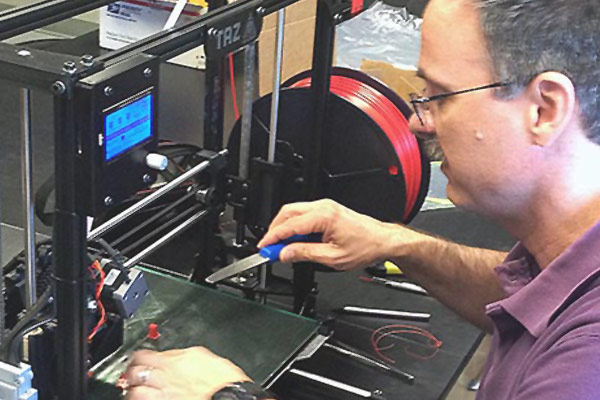 Associate professor Tim Duman removes a test object from the 3-D printer.

The LulzBot TAZ 4 desktop 3-D printer produces three-dimensional objects that serve as specialty parts for rocket tests, meteorology and astronomy courses that involve self-contained high-altitude balloon experiments, and engineering courses in computer-aided design and testing. The printer can be connected to a laptop or controlled by plugging in an SD memory card containing the design, which could then produce items of your design in plastic, nylon or even exotic materials like wood.