Bachelor of Music in Music Performance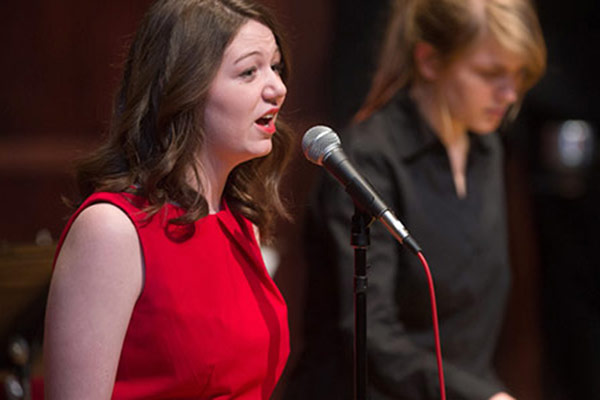 The music performance major provides you with challenging theory and performing courses that will push your capabilities as a musical artist. Theory classes, preparing and performing for recitals, developing your technique—each year in this major is dedicated to preparing you for a career as a performer. The main categorization in this major is whether you choose vocal or instrumental performance, as this will change what courses you take and what areas of music will be emphasized.
Program strengths
Four years of preparing for and performing in bi-semester performances
Private lessons that enable you to develop your strengths and break through your limitations
Theory courses that are applicable to your performance and techniques
Cross-genre studies, such as piano, give you a well-rounded experience
Ability to play in local performances to improve your craft
Ensemble experience to develop your ability to perform with others
Recitals showcase growth
Every music performance major will perform pieces at their junior and senior recitals in front of an audience to showcase the growth they've established over the course of four years. This recital is held in the Ruth Lilly Performance Hall and prepares you for the level of organization and professionalism involved in order to become a professional musician. In your senior year, you will work with private teachers to choose from your respective canon pieces to perform. Graduation is dependent on this performance.
Potential careers in music performance
Music performance majors often find work performing for orchestras, in operas and plays, for city symphonies, as freelance artists, and in studios. But you aren't limited to performance alone. Here are a few things to keep in mind:
Musical artists with experience are valued by high schools and universities
Connections made while performing lead to more performance gigs and possibly endorsements
Music performance majors often go on to teach private voice or instrument lessons
The degree prepares students wishing to pursue a graduate degree in music performance
Music performance might be for you if:
You have been trained in music throughout high school
You enjoy performing in front of others
You have a high level of dedication to improving your musical ability
You enjoy developing your skills independently from others
You enjoy using your musical talent in complement of bigger groups
---
Curriculum Guides
These curriculum guides outline the different classes you will need to take as a music performance major. The general education guide provides a list of all the classes you need in order to fulfill UIndy's general education requirements. The music performance guide lists the classes you'll need to take to fulfill your major's requirements. Be sure to take a look at both guides in order to get a complete picture of what your classes will look like at UIndy.