Music Facilities
The places where we train as musical artists are as important as the halls where we perform. The Christel DeHaan Fine Arts Center provides both—with the Ruth Lilly Recital Hall for perfect acoustic performances and the countless studios and practice rooms where ensembles rehearse and individual performers develop their craft.
Christel DeHaan Fine Arts Center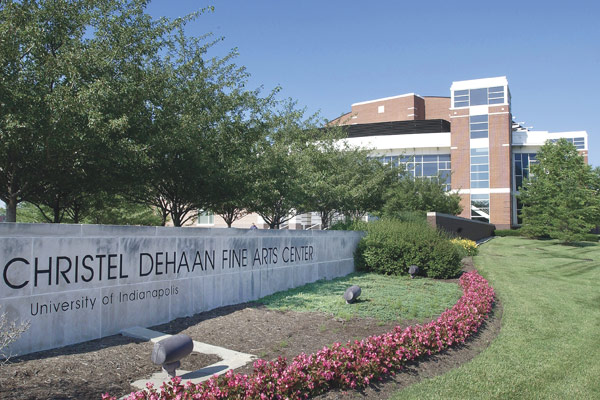 Built in 1994, this center houses both the Department of Music and the Department of Art and Design. The building is dedicated to the development of young artists and performance of those who have succeeded in the arts. Practice rooms dot the building and offer students pianos, sound-reduction, percussion equipment, and—in the top level—a fully furnished studio equipped with both digital and vintage gear. Students are able to develop their craft and then perform—all in the same building. The Christel DeHaan Fine Arts Center hosts over 100 performances each semester.
Ruth Lilly Performance Hall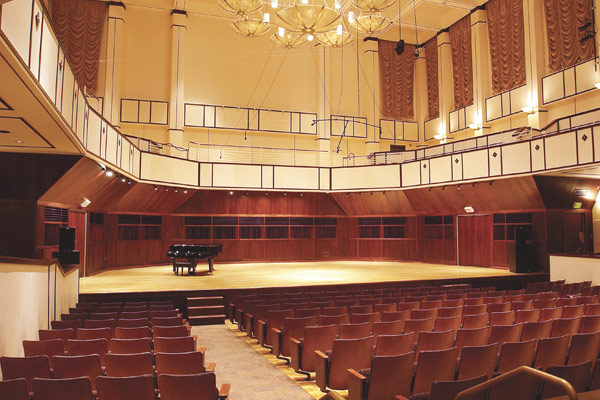 The Ruth Lilly Performance Hall has hosted thousands of artists and performers over the last twenty years. The performance hall provides an exquisite, Viennese-style space in which a special acoustical design produces high-quality sounds. It has showcased some of the top performers in the world and the recording equipment has enabled students and faculty to publish renowned performances, as well as student recitals. Some of the more renowned performances have included:
Indianapolis Quartet
American Pianists Association
Emerson Quartet
London Chamber Orchestra
Cellist Janos Starker
The Juilliard Quartet
Violinist Aaron Rosand
Pianist Olga Kern