Bachelor of Arts or Science in Music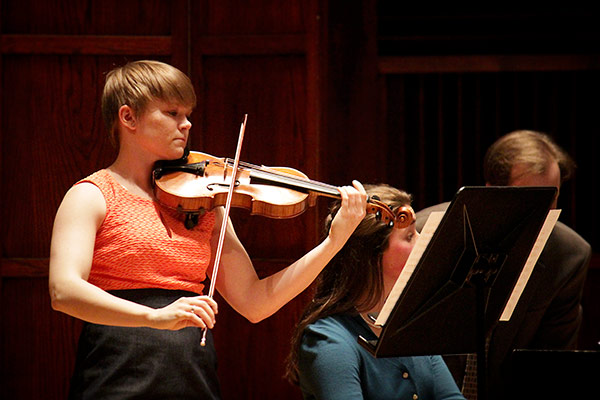 As you're pursuing a BA or BS degree in music, you can choose from one of five concentrations in which to further your musical studies: jazz studies, music business, music technology & recording, theory/composition or church music. If you choose a BA or BS degree without the concentration, you can take fewer credits and have the option of choosing a second major—pairing your music degree with something mutually beneficial.
Program strengths
Opportunities to perform in a variety of chamber and large ensembles
Core classes shape your understanding of music and theory
Concentration options further your career preparation
You have the ability to choose a lighter course load, without a concentration, allowing for a double major
Composition/theory concentration allows you to build a portfolio of original works
Concentrations
Concentrations are completed within the standard four-year liberal arts music degree, and focus on real-world application of your musical interests. You take classes that are specific to that field and many of these classes focus primarily on how you will develop careers upon graduation. The concentrations include:
By offering a curriculum that includes jazz improvisation, arranging, history, theory, pedagogy and performance, you will have greater confidence and success in your future endeavors. This program is designed to give you a complete understanding of jazz–its history, great performers, great arrangers, and relationship to other types of music, as a well as a knowledge of pedagogy. Since this is a performance-based program, a significant amount of time is spent on that aspect.
A cooperative curriculum between the Music and Business Departments, the music business concentration helps music students prepare for any music business endeavor including private studio development, orchestral management, retail music sales and professional contracting. In addition to the Bachelor of Science in Music curriculum, the 22-hour concentration provides courses covering the basic components of the business degree such as accounting, finance and entrepreneurship along with music specific offerings which include professional development and a seminar with guest lecturers in the field of music business. You will also have the opportunity to gain practical experience through an internship in a specific area of interest, as well as network with area music businesses and professionals in the field.
Music business students have gained expertise from area partners including Piano Solutions, Indianapolis Symphony Orchestra, Indianapolis Chamber Orchestra, Paige's Music, Music for All, the American Pianists Association and the Indianapolis Arts Council.
The University of Indianapolis is unique to the Midwest in offering a bachelor's degree with a concentration in these two areas. While some programs focus excessively in the technological areas and exclude fundamental music courses, UIndy's music technology & recording concentration is build on the foundation that recording engineers with strong musical skills are more effective than those whose knowledge is purely technical. Within the music major, you'll be well-trained in all of the traditional areas of music: theory, history, performance and critical listening skills.
The curriculum also provides an equal combination of theoretical and practical knowledge. You'll be given generous access to the recording facilities and ample opportunity for hands-on experience to practice what you have learned. This culminates in the final year of the program with the Music Technology Capstone Project in which you will demonstrate your mastery of the material by overseeing all aspects of a professional recording project. There is also the opportunity, with instructor approval, for placement as an intern in a commercial recording studio.
Many students completing this concentration have been successful in securing employment in recording studios, radio and television stations, video production facilities and other companies providing live sound support.
Long recognized as central to the study of music, the theory/composition concentration at UIndy is a versatile program that can serve students with a multitude of goals and backgrounds. This program can prepare you for graduate studies in a traditional classical environment or it can be used as a supplemental study to performance or education degree programs.
Two paths can be taken within this concentration; one emphasizes composition, the other, theory. The difference is in how much private instruction you will receive and the focus of your upper-level interests. If you wish to have an emphasis in composition, you will concentrate on building a portfolio of original works. If you wish to have an emphasis in theory, you will have a primarily analytical focus in upper-level theory courses that are devoted to a richly varied heritage of masterworks. No matter which focus you choose, performance of musical works is essential and is done through individual and departmental recitals and/or composition area recitals.
Potential careers in music
A music degree allows for a multitude of career options, such as:
Music production
Accompanist
Composer
Conductor
Teaching master classes
Vocal coach
Private instrument teaching
Arts administration (managing events, programming, etc.)
Instrument repair and restoration
Recording
Getting connected in Indianapolis
In each concentration of the music program, you'll be exposed to professionals who are still active in the music scene in Indianapolis. This practice has often led to internships during students' senior year, as well as live playing gigs. Here are just a few examples of the opportunities you may find in Indianapolis:
Working with recording studios
Performing at local jazz venues like the Jazz Kitchen & Chatterbox
Working and performing with area churches
Composing and arranging for professional groups
---
Curriculum Guides
These curriculum guides outline the different classes you will need to take as a music major. The general education guide provides a list of all the classes you need in order to fulfill UIndy's general education requirements. The music guide and concentration guides lists the classes you'll need to take to fulfill your major's requirements. Be sure to take a look at both guides in order to get a complete picture of what your classes will look like at UIndy.