Human Biology Labs & Research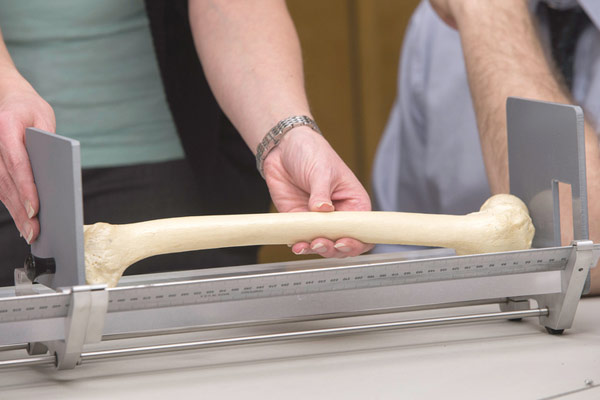 Those interested in forensic anthropology and historic osteoarcheology may train directly on the dozens of human remains cases (both recent and ancient) that are handled annually through the Archeology & Forensics Laboratory. Other departmental resources include comparative human osteology and nonhuman skeletal collections, fossil casts, microscopes, DNA extraction and analysis equipment, and a 16-bay human gross anatomy laboratory.
Archeology & Forensics Laboratory
The Archeology & Forensics Laboratory (AFL) facilitates archeological and bio-anthropological research for undergraduates, graduates and faculty. This laboratory houses archeological collections primarily from Indiana. However, it also currently curates an extraordinary collection of prehistoric Alaskan artifacts.
AFL features include:
Ever-growing faunal collection
Casts of fossil animals and humans
A dedicated bone preparation room
A photography room that contains two photographer's copy stands, general equipment for indoor and outdoor photography, several film cameras, a Nikon D-90 digital camera, and assorted lenses and filters
Analysis and preservation areas
Molecular Anthropology Laboratory
The Molecular Anthropology Laboratory (MAL) is dedicated to the purification and analysis of skeletal DNA. This lab allows students to investigate skeletal and trace DNA in a space where appropriate contamination precautions are in place.
Current hands-on research includes:
Investigations of primary and secondary transfer DNA
Use of mtDNA to establish familial relationships between the children and adults of a historic cemetery population
Investigating the utility of ancient bacterial DNA in reconstructing population relationships across time and space
Genetic sex determination of morphologically ambiguous skeletal remains
Optimization of the skeletal DNA purification process from various source samples under different circumstances
Human Gross Anatomy Laboratory
This dedicated facility holds up to 18 human and large vertebrate cadavers in enclosed dissecting tables. Advanced students can conduct specialized dissections for research projects.
Anatomy Tutoring Laboratory
In the Anatomy Tutoring Laboratory, you can receive personalized assistance from trained peers for any anatomy or physiology course you are taking. The room houses microscopes and numerous life-sized models for hands-on learning.
---
Madison (UIndy alum): Contract molecular biologist for Dow AgroSciences; adjunct biology instructor at UIndy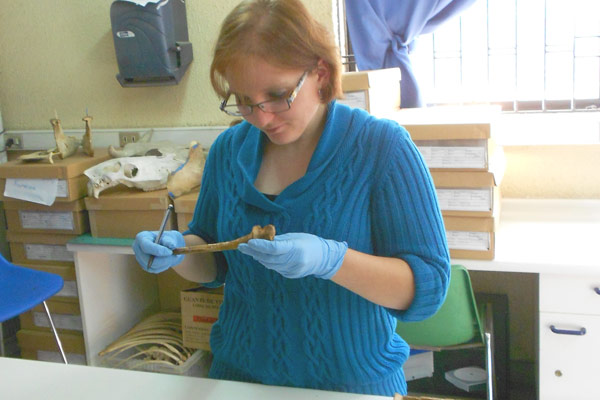 "I had the amazing opportunity to travel to Santiago, Chile, to collect data for my thesis research. This opportunity not only allowed me to gain international experience, but it also prepared me for future work in a PhD program.
As part of the Forensic & Historic DNA Analysis course, I had the opportunity to develop an experiment with my coauthors, carry out the research, and present the research at the 2013 annual American Academy of Forensic Sciences meeting. This experience provided me the opportunity to learn how to submit research for publication, to network with my peers, and to grow as a professional in the field.
My experience in the genetics and DNA analysis courses at UIndy also provided me with the educational foundation that was necessary for my current work as a molecular biologist."