Labs & Research Opportunities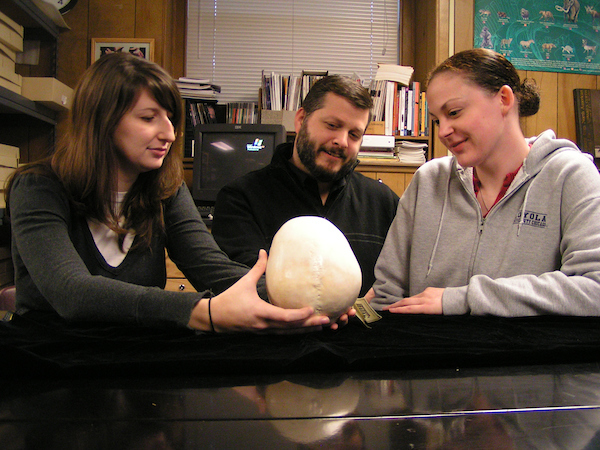 The UIndy Department of Anthropology prides itself on providing unique research opportunities for its students. Research opportunities often center around discoveries found in department field sites. For instance, Dr. Chistopher Moore is currently soliciting the help of graduate and undergraduate students to expand the research of bone tools, an opportunity sparked by the discovery of a 10,000-year-old tool found by UIndy students in northern Indiana.
Student research is readily available, in part, thanks to the University's outstanding lab facilities. Anthropology graduate students receive the personal attention offered only by a small school, while studying in labs comparable to those of large universities. The department's four labs include:
Indiana Prehistory Laboratory
The department's newest facility, the Indiana Prehistory Laboratory (IPL) was primarily designed to support undergraduate and faculty research in archaeology. The lab's core interest is understanding human lifeways in Indiana (and the adjacent Midwest) before the arrival of Europeans. To date, the focus has been on Indiana's earliest inhabitants who lived from between 10,000 and 5,000 years ago. Students have the opportunity to work as paid assistants in the IPL.
IPL features include:
White Light Confocal Profiler - Obtained through a prestigious National Science Foundation grant, this microscope is revolutionizing dental microwear labs and can be found in only a handful of U.S. anthropology labs.
Built-in flotation tank - Used for processing mainly tiny charred plant and animal remains
Artifact preparation and analysis areas
Long-term storage space
Material Culture Laboratory
The Material Culture Laboratory (MCL) functions as an artifact conservation and analysis space. Both graduate and undergraduate students conduct research in the MCL and have the opportunity to work as paid assistants.
Current hands-on research includes:
Native American pottery from the Spanish Mission field site on Sapelo Island near Georgia
Studies of late 19th & 20th century material from archeological investigations at central Indiana's General Lew Wallace Study & Museum
Classifying and analyzing Indiana chert (flint) types