Master of Arts in Studio Art Program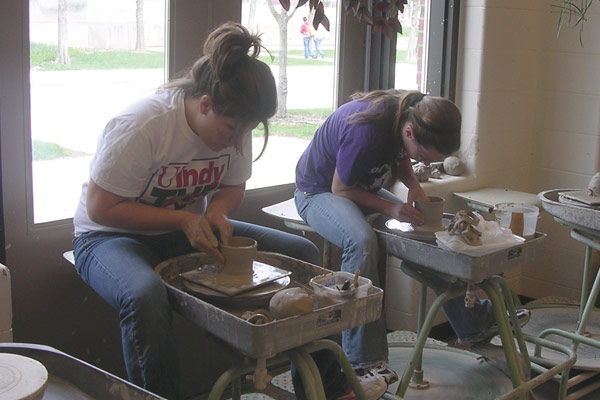 This program provides opportunity to improve and expand artistic skills and technical abilities. We expect students to develop capacities to work independently, make effective artistic and intellectual judgments and professional decisions in their areas of specialization.
Program length & format
This full-time program is typically completed in 2-3 years. A mix of both day and evening classes are offered.
Program requirements & areas of specialization
Students must complete 30-36 credit hours, depending on their choice of the non-project or graduate project/thesis option. A minimum of 15 hours must be completed in one of three concentration areas:
Painting
Drawing
Ceramics
Two program options
This graduate program provides two separate tracks for students, depending on their overall learning goals. The thesis/project track focuses on results—what students are able to achieve on their own—and the coursework option focuses on helping students define and develop what work they'd like to achieve.
Non-project option
Students in this track spend their time with coursework, which gives them time to study techniques, concepts and history of art.
Graduate project/thesis option
This track is designed to give students time in the studio where they build on their skills and prepare for their thesis exhibition.
24 hours of coursework
6 hours of ART 590 Thesis/Project (thesis must be approved before enrolling in ART 590)
Thesis requirements
A coherent series of works exemplifying the artist's abilities and knowledge
A written thesis explaining the work, concept and historical precedents
Artist's statement
Exhibition of thesis/project
Digital portfolio and documentation of the exhibition
The final review of thesis/project by the Faculty Graduate Committee
Courses enrich art appreciation and development
Art Since 1900
Women in Art
Methods & Materials for Curriculum & Instruction
Methods & Materials for Two-Dimensional Art
Methods & Materials in Three-Dimensional Art
Ceramics Technique
Advanced Painting
Advanced Drawing
Special Topics in Art
Thesis
Tuition
Tuition for the 2017-18 academic year is $508/credit hour. Students are responsible for their own textbooks and course materials. Learn more about financial aid for graduate students ►
When can I start?
Students may begin the program in August or January, provided they have completed all admission requirements and have been accepted into the program. The program follows a rolling admissions policy; however, applicants who complete the admissions process by July 15 for Semester I (Fall 2016) and Nov. 1 for Semester II (Spring 2017) will be given priority consideration.