Master of Science in Life Sciences
UIndy's Master of Science in Life Sciences program allows you to earn a master's degree while earning dual credit certification. Along with dual credit courses built into the curriculum, your remaining credit hours can be completed by taking additional courses offered by the Department of Biology. Alternatively, you can complete a Master of Arts in Curriculum & Instruction, offered by the School of Education, to meet the master's degree requirement for teaching dual credit.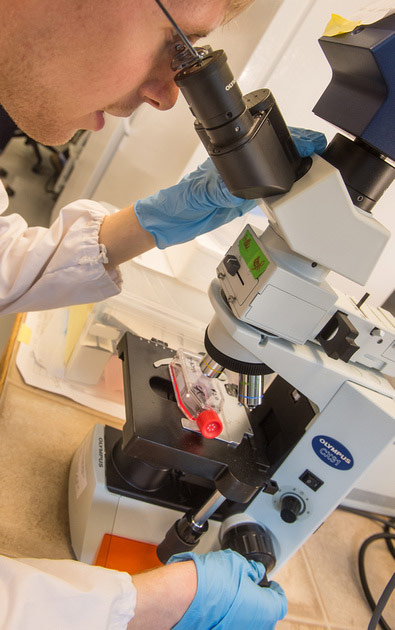 Format
The required 18 hours to complete the dual credit courses will be offered in a traditional format in a series of three 6-hour intensive summer sessions to be offered in 2016, 2017 and 2018. Upon completion of the summer courses, three courses toward the completion of the master's program will be available as distance learning options. Summer electives and evening courses may also be offered.
Program length
The Master of Science in Life Sciences requires completion of 30 credit hours. Up to 6 hours may be transferred from other accredited institutions.
Curriculum
Dual credit course offerings for each summer session are listed below. Courses are a combination of lecture, discussion of readings, and laboratory and field activities. We will explore important principles of evolution and ecology in context of living (or extinct) organisms.
As part of each summer session, teachers will have the option to take a 1-credit capstone course (BIOL 599 Independent Study in Biology) that involves supervised curricular development. This curricular development may be completed at the teacher's pace with feedback from UIndy faculty. In 2016, this additional credit will be subsidized by a grant from the Scientech Foundation.

Summer 2016 (6 hours)
BIOL 562 - Topics in Evolution (diversity and evolution of selected taxa)
BIOL 563 - Topics in Ecology (ecology and adaptation of selected taxa)
Summer 2017 (6 hours)
BIOL 560 - Topics in Anatomy: Human and Comparative Anatomy
BIOL 561 - Topics in Physiology: Human and Comparative Physiology
Summer 2018 (6 hours)
BIOL 561 - Topics in Physiology: Cellular Biology and Genetics
BIOL 565 - Topics in Systematics: Microbiology
Admission requirements
The MS in Life Sciences program is open to any licensed teacher in the life sciences. Non-teacher applicants must include a personal statement with their application detailing their interest in pursuing the degree program.
When can I start?
Teachers wishing to enroll in the next cohort of this program must apply for Summer 2017 as dual credit courses are sequential.