Experience Design Faculty
The teaching model in UIndy's experience design major brings the advantages of new and varying experiences each year, instructor field experience and professional networking for students. Our program uses instructors who are professional practitioners whenever possible, including many from our internship placement sites such as Indiana Landmarks and Conner Prairie. In addition, faculty from other departments such as Communication, Art and Theatre teach courses that are required in the design, research and development, and management tracks.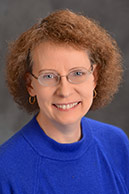 Dr. Samantha Meigs
Director of Experience Design
Associate Professor of History
Specialties: Themed events and environments, Medieval and Early Modern history

PhD, History
Areas of Expertise
Experience design, themed events and environments, living history, mentalities and social history of Medieval and Early Modern Europe
Background
Dr. Meigs serves as both director of the experience design program and associate professor of history. In addition to her scholarly interests in Medieval and Early Modern Europe, she is currently involved in a number of experience design projects, with a particular interest in the re-creation of historical environments and immersive experiences. Her current research focuses on applied history, popular culture, and the public's experience of the past, using folklore and folk-life, family traditions, and experience design techniques to help bring history to life.
Publications
The Reformations in Ireland, Tradition and Confessionalism (1450-1690)
Peoples of the British Isles, volume one (Prehistory-1690)
Recent Presentations
"The Crusaders' World: Food-ways Experiences" in Playing with Food: Exploring Medieval Food-Ways in Classroom and Popular Culture, International Congress on Medieval Studies, Kalamazoo, MI, May 2013.
"Popular Beliefs and the Medieval Mentalité" in Teaching Popular Literature and Popular Culture of the Middle Ages: International Congress on Medieval Studies, Kalamazoo, MI, May 2012.
Major External Grants
Lilly Foundation, Institute for Emerging Careers Grant
National Endowment for the Humanities Summer Research Grant
Fulbright Fellowship (Graduate research–Ireland)

Education
PhD, Northwestern University
MA, University of Colorado
BA, University of Colorado
Favorite Thing about UIndy
The students!

Contact Information
smeigs@uindy.edu
317-788-3250
Good Hall 222
Field instructor
Michele Dow
Eli Lilly and Company
Operations Manager, Global Marketing & Sales Transformation
Associated faculty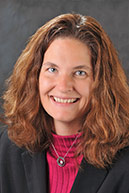 Dr. Rebecca A. Deemer
Associate Professor
Communication
Specialties: public relations, branding, promoting for-profit and non-profit entities

EdD, Higher Education/Public Relations and Communication Studies
Areas of Expertise
public relations program development, evaluative measures for public relations outputs and outcomes, brand identity, community service initiatives in higher education
Background
A native Hoosier, spent several years traveling and promoting different athletic teams. Has worked domestically in internal and external relations for both corporations and non-profit organizations. Has also taught at Ball State University, Northwood University and Ivy Tech Community College. Active member of many professional organizations, including the Public Relations Society of America and the International Association of Business Communicators.
Research Interests
original survey development, brand perception, professional outcomes related to curricular structure in higher education
Education
BA, Psychology, University of Indianapolis
MA, Communication Studies, Ball State University
EdD, Higher Education/Public Relations and Communication Studies, Ball State University
Fun Facts
I love adventure, having lived in places like Australia and Finland, and engaging in activities such as bungee jumping and scuba diving. I can frequently be found on Smith Mall playing sports with my three children.
Favorite Thing about UIndy
The campus culture.
Contact Information
rdeemer@uindy.edu
317-788-5720
Esch Hall, 311D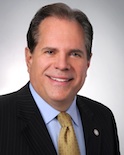 Ron Dow
Director, Center for Business Partnerships
School of Business
10 years of private sector experience in career & job search training & coaching; started two businesses as partner or owner in human resources & hospitality operations

MA, Education
Areas of Expertise
organizational behavior, human resources, career and job search coaching, business operations, real estate
Background
Professional experiences include two new business start-ups as business partner or owner, human resources and hospitality operations. Additional 10 years experience in career and job search training and coaching. Through the Center for Business Partnerships, created and presently directs Team Business, the student employment program for the School of Business. This "learning laboratory" acts as a management and leadership training program for student employees, which in turns allows them to develop into campus role models and future business leaders.
Research Interests
organizational development, training and coaching
Education
MA, Education, Ball State University
BS, Business (Hotel Management), Fairleigh Dickinson University
Fun Fact
I have designed and built two custom houses and have enjoyed New Year's Eve in Times Square.
Favorite Thing about UIndy
Our size, which enhances our ability to get to know our students, faculty and staff.
Contact Information
rdow@uindy.edu
317-788-6166
Esch Hall, 032C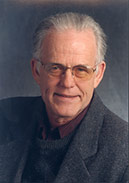 Jim Ream
Associate Professor
Theatre
Specialties: Theatre design and technology

MFA, Theatre Design
Areas of Expertise
theatre design, technology
Background
For over 40 years, Mr. Ream has had the privilege to teach and learn from thousands of students and has enjoyed the opportunity to design scenery and lighting for hundreds of productions at the University, community theatres and professional theatres in the Midwest. In addition to receiving a gold medallion from the Kennedy Center for service to the Kennedy Center American College Theatre Festival, he is proud to have served as a designer for UIndy commencement ceremonies and three UIndy presidential inaugurations.
Research Interests
theatre technology, computer-aided design (CAD), CAD computer programming
Education
MFA, Theatre Design, Purdue University
MSR, Communication, Christian Theological Seminary
BA, Sociology/Psychology, Culver-Stockton College
Fun Fact
I once worked in broadcasting and still miss it.
Favorite Thing about UIndy
Every day is filled with new opportunities and interesting people.
Contact Information
Esch Hall, 65B
317-788-3265
ream@uindy.edu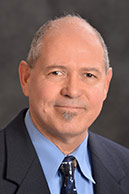 Dr. Gregory A. Reinhardt
Professor & Chair of Anthropology
Director of Archaeology for the Archaeology and Forensics Laboratory
Specialties: cultural anthropology, biological anthropology, anthropological linguistics and archaeology

PhD, Anthropology
Areas of Expertise
native cultures of the American Arctic, Eskimo dwellings, visual stereotyping of American Indians, photography
Background
Dr. Reinhardt has published research in all four areas of Anthropology: cultural anthropology, biological anthropology, anthropological linguistics and archaeology. Fieldwork includes archaeology in California and Alaska and linguistics in California. He was funded for a three-year, $400,000 Alaskan archaeology project through Bryn Mawr College and the National Science Foundation. Dr. Reinhardt co-wrote Eskimo Architecture: Dwelling and Structure in Early Historic Period (2003), which in 2004 was named one of the American Library Association's "Best of the Best from the University Presses." He also co-edited the book, Many Faces of Gender: Roles and Relationships Through Time in Indigenous Northern Communities (2002), and is currently writing two books: Depicting Indians: Visual Fantasies about America's Favorite Peoples and Technical Photography: Taking Superb Color Photos for Presentation and Publication.
Research Interests
General anthropology; archaeology; lab & field methods; North American forager cultures; misrepresentations of American Indians; vernacular architecture; gender
Education
PhD, Anthropology, UCLA
MA, Anthropology, UCLA
BA, Anthropology, UCLA
Fun Facts
Collects images of American Indians from eBay; Office is so full of quirky objects that it looks like a museum
Favorite Thing about UIndy
Personal contact with the students he teaches
Contact Information
Good Hall, 005A
317-788-3440
reinhardt@uindy.edu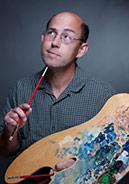 James Viewegh
Department Chair, Art & Design
Associate professor of Art
Specialties: Drawing and painting

MFA, Painting
Areas of Expertise
drawing, painting
Background
Professional artist who exhibits regionally and nationally and has worked in a variety of private, corporate and museum collections.
Research Interests
realistic figure drawing, painting techniques
Education
MFA, Painting, Indiana State University
MA, Drawing, Ball State University
BFA, Drawing, Ball State University
Fun Facts
Creating and making artwork is one thing I have always been interested in doing my entire life.
Favorite Thing about UIndy
The smaller campus, where you know faculty and staff, and smaller class, where you get to know students.
Contact Information
Christel DeHaan Fine Arts Center, 214B
317-788-3509
jviewegh@uindy.edu