English Internship & Career Opportunities
Where do UIndy students intern?
English Department students have interned for:
Spirit & Place Festival
University of Indianapolis Press
Indiana Bureau of Motor Vehicles
Center for Aging and Community
Wiley Publishing
Metonymy Media
Writers' Center of Indiana
Big Car
Second Story
Indianapolis Monthly
No matter what type of field you're hoping to enter after graduating, having an internship during your college career gives you a head start. Through an internship, you will get relevant work experience, meet professionals in the field, and learn practical application of your literature and writing studies.
Finding the right internship
UIndy's English professors are committed to helping students succeed both in and out of the classroom. Our professors have connections to community organizations, writing companies and publishers, and are willing to help you find the right internship. No matter what your interest is, there is an internship that will suit you. You'll gain valuable knowledge that will help you in the classroom, too.
Experience counts
Many employers are starting to look for relevant experience on résumés, even from recent graduates, which is why we not only offer hands-on opportunities in class, but also encourage students to find an internship. An internship will help you more definitively decide what career to pursue, as well as give you a better understanding of how different industries operate.
Claire: Wiley Publishing & Indianapolis Monthly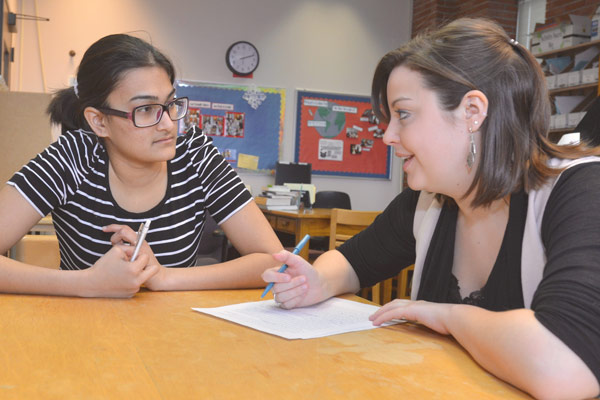 Claire Johnson, double majoring in literary studies and professional writing, has had two internships during her time at UIndy, one with Wiley Publishing and the other at Indianapolis Monthly.
Claire's internship with Wiley ignited her interested in the book publishing industry. "My editing classes came in handy when I was assigned editing projects for my team at work. I learned a lot that will hopefully help me become a publishing professional."
Her stint at the magazine further solidified her career interests. "At Indianapolis Monthly I learned about the vast differences between book and magazine publishing. Now that I am familiar with both, I have a better understanding of the type of publishing I want to go in to."
Currently a Writing Lab tutor, co-editor-in-chief of UIndy's literary magazine Etchings, and a student assistant in the English department, Claire has found no shortage of professional opportunities on campus. "All of these things were valuable because they got me more involved with the campus community."
Nate: Metonymy Media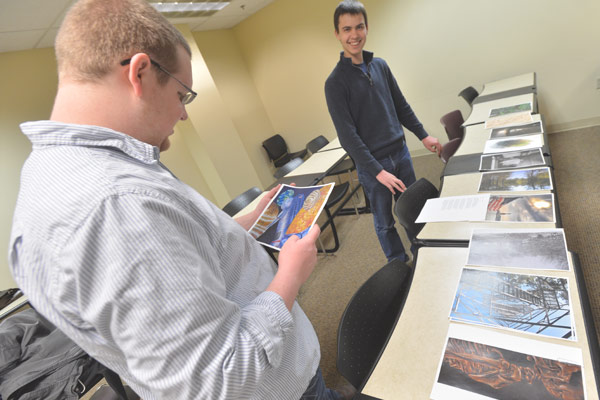 Nate pictured left

Professional writing major Nate Brock serves as chief intern at Metonymy Media, a professional writing company in Indianapolis founded by some of the best and brightest of UIndy's English graduates.
Nate says his internship at Metonymy has continuously improved his writing style, grammar and speed, and that his education at UIndy has been equally as impactful in helping him refine his work.
"All of my major professors have had some kind of extraordinary involvement with my development as a writer. Dr. Weber started getting me hooked on writing in her Intro to Creative Writing Class and Intro to Literary Criticism Class; Professor McKelvey pushed me to be more specific and hammer out details in my work; and Professor Pane funneled me into the kind of writing I'll probably be doing for the rest of my life."
Nate's advice to new students? "Don't hold back…Let your complete self out and you will be amazed at the things you will learn, both about yourself and about the world around you."
Sarah: Smiley Morning Show, 99.5 WZPL
Sarah Rae changed her major from music performance to literary studies halfway during her undergraduate years at UIndy, but continued her love for music through a minor. Now, Sarah is able to cultivate both passions with assignments in writing and digital audio production as an intern for Smiley Morning Show on 99.5 WZPL, airing weekdays from 5 a.m. – 10 a.m.
The internship at WZPL, broadcast by Entercom Communications Corp., has a wide variety of responsibilities. "Some of the main items I do as an intern include pulling/editing audio, writing up bio sheets, updating prizes/perks/sports, recording weather for the day and much more," Sarah said. "The internship has prepared me for how much work a job requires and helped me know what to expect when I start job hunting and interviewing."
Sarah also credits UIndy for the career preparation she has received, from classes and professors to extracurricular activities.
"Dr. Morris was my English advisor and was so supportive of my decisions regarding my classes and other endeavors. In fact, she gave me some great recommendations for internships and other opportunities. I consider her someone that I will keep in touch with after I graduate UIndy in May."