Chemistry Concentrations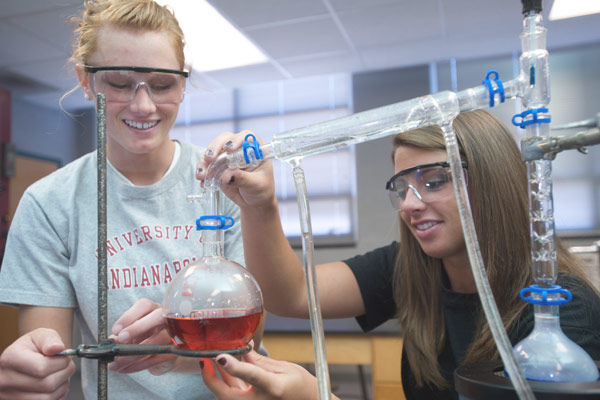 The Chemistry Department at UIndy aims to prepare students for a wide variety of careers upon graduation, which is why we offer several concentrations. The concentrations are not designed to limit students. Instead, they provide them with a focused course of study that allows for the development of more specific skills. Students are not limited to the courses the concentration requires and are free to take courses that are in other concentrations.
Biochemistry
This concentration is designed to give students a focus in chemistry and a basic knowledge of biology and how the two sciences interact with each other. Students interested in biochemistry should also consider adding a major in biology, as the two degrees pair well.
Chemical physics
With a concentration in chemical physics, students will receive a degree in chemistry with a minor in physics. Students will graduate with an understanding of how physics plays a role in chemistry.
Environmental chemistry
Students interested in how chemistry affects and plays a part in the natural world, environmental studies, or public health should consider a concentration in environmental chemistry. Students take a focused course selection that allows them to master chemistry and have a strong foundation in earth and space sciences.
Industrial chemistry
Students who choose to study industrial chemistry will be introduced to how chemical materials are made and how chemical-based processes are carried out. Students can expect to enter career fields that revolve around the manufacturing of chemically-based products.