Studio Art Major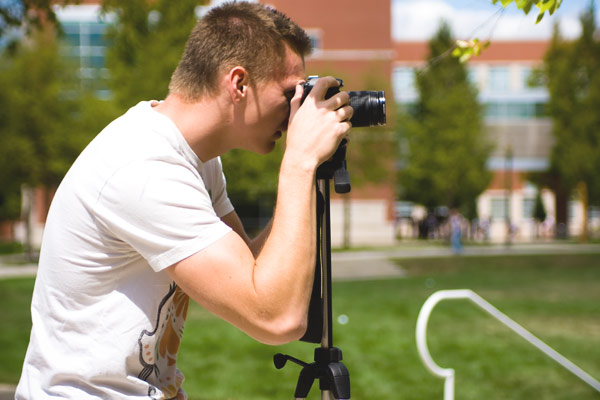 We believe that with study and determination everyone can achieve their goals. Our program is designed to help you develop and hone your artistic abilities, whether it leads you to a career as a studio artist, furthering your education with a graduate degree, or choosing a path where problem solving and creativity are essential. When you begin our program, you embark on a journey that starts with laying a foundation of fundamental art concepts and ends in the concentration of your choice with the knowledge and skills of an artist.
Program strengths
Courses provide a fundamental foundation in art, then move into specific concentrations
Choice of six concentrations allow you to focus on the area that most interests you
Choice of two degrees provides options to meet your learning and career goals
Experienced faculty with advanced artistic backgrounds
Small faculty-to-student ratio allows you to spend more time with professors to improve on skills, work on challenges and develop a strong art portfolio
Art facilities are open 24 hours
Concentration choices
Within the studio art major, you'll get to choose an area of concentration.
Drawing
Painting
Ceramics
Digital photography
Printmaking
3-D extended media
Two degree options
Bachelor of Fine Arts (BFA)
The BFA is a professional undergraduate degree in studio art that prepares students to become professional working artists or to move on to a graduate program. The heavier course load in the BFA program gives you a fully rounded education and more hands-on experience with your chosen concentration.
Bachelor of Science (BS)/Bachelor of Arts (BA)
The BS/BA is a liberal arts undergraduate degree in studio art that provides students with a background in art but still allows them to pursue other interests. The course load with the BS/BA degree is less heavy, enabling you to work toward a second major – either within the Department of Art & Design or outside of it.
A career in studio art
Studio artists are creative individuals who are problem solvers and look at the world in unique and interesting ways. The types of careers available to individuals with such skills and determination are broad and are only bound by their willingness to learn and evolve; however; there is no clearly defined career path for studio artists. For those who do choose a career as a professional studio artist, they must deal with the complex nature of working in a profession where most artists are their own employer and advocate. Becoming a successful studio artist takes time, dedication and determination. For those reasons, many artists may initially need to earn a living apart from selling their artwork. Making these decisions takes courage and a vision that can mean something different to every individual artist.
Employers of studio art graduates include:
Art museums and galleries
Local historical societies
Art centers
Specialty art studios
Foundation across the arts
As a studio art major, you can expect to build foundational arts skills across many areas before you pick an area in which to concentrate. In addition, intro courses study fundamentals that will help you improve your personal craft. A few examples of courses you'll take include:
Fundamentals of Two-Dimensional Design
Fundamentals of Three-Dimensional Design
Beginning Painting
Beginning Drawing
Creative Digital Practice
Digital Photography
24-hour facilities
Our facilities are open 24-hours, giving you the ability to work on your projects any time you want. Creativity often comes in waves, and being able to work when inspiration strikes is an important part of being an artist.
Studio art might be for you if:
You see yourself pursuing a career as a full-time artist

You've always wanted to be working with your hands more than anything else

You enjoy being challenged by visual problem-solving

You enjoy being creative

You are a visual thinker who looks at the world in a different way

---
Curriculum Guides
These curriculum guides outline the different classes you will need to take as a studio art major. The general education guide provides a list of all the classes you need in order to fulfill UIndy's general education requirements. The studio art guide lists the classes you'll need to take to fulfill your major's requirements. Be sure to take a look at both guides in order to get a complete picture of what your classes will look like at UIndy.