Anthropology & Archaeology Field Opportunities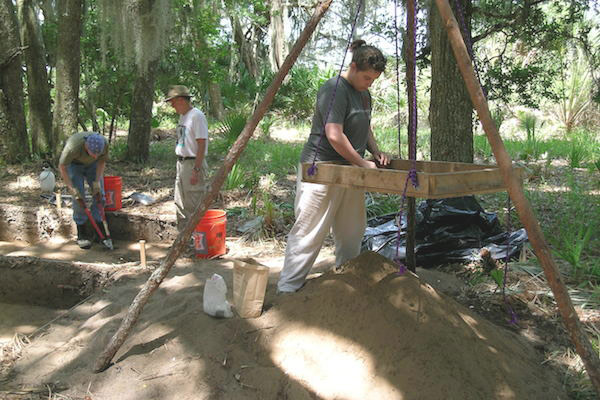 UIndy archaeology students have the unique opportunity of learning from more than just textbooks and labs—they are able to get actual field work experience. Sites often involve collaborative research and can be located across the country. Current sites include:
Spanish Mission on Sapelo Island
Dr. Moore, along with Dr. Richard Jefferies of the University of Kentucky, has been searching for a lost Spanish mission on Sapelo Island off the coast of Georgia. The Sapelo mission was abandoned in 1684, and since that time historians, explorers and archaeologists have discussed a number of potential locations for the site.
Drs. Moore and Jefferies' work began in 2003 when a UK field school discovered mission period Spanish artifacts near the 4,500-year-old shell rings they were investigating. Since then, survey, excavations and geophysical work conducted north of the shell rings have provided ample support that the mission was located in this area.
Future research will involve continued survey and excavation of mission period Spanish and Native American middens and structures. Drs. Moore and Jefferies are interested in examining the nature of Spanish and Guale Indian culture change and the influence of interactions among individuals from disparate cultures on material culture. Dr. Moore often seeks the assistance of students interested in surveying and excavating other portions of Sapelo, including prehistoric archaeological sites. Other potential projects include comparative studies of late prehistoric coastal Georgia and ceramic and clay sourcing studies.
Carroll County, Indiana
During the summer of 2011, Dr. Moore began investigating the town of Xenia in Carroll County, Indiana. Largely abandoned in the 1870s, the town represents a time capsule of the pioneer through early postbellum periods in Northern Indiana.
The Xenia research is part of a long-term investigation of historic and prehistoric sites in Carroll County and surrounding areas. The major aim of the Xenia research is to investigate how small towns in Northern Indiana were connected (or not) with larger communities and how these connections changed as regional populations grew and economic opportunities expanded. Dr. Moore is also concerned with understanding the conditions by which some small communities have maintained their distinct identities while many others have since disappeared.
Several UIndy students are currently studying the materials recovered from Xenia, as well as other artifact collections from the Carroll County area. Additional research into the county's early history began in 2013 with a survey of an 1820s homestead site located near Delphi. Dr. Moore is currently looking for students interested in continuing and expanding this work. Planned projects include investigation of an early 19th century battlefield site, a French trading post, and various prehistoric sites in the county.
Recently, Dr. Moore began a research project with the Carroll County Historical Society and the Carroll County Wabash & Erie Canal Association to locate the site of the 1825 Daniel Baum homestead. Daniel Baum was a leading member of the early Carroll County community, and his property hosted the first Carroll County courts and the first store. Students from Dr. Moore's geoarchaeology and historical archaeology courses spent a weekend mapping and surveying portions of the property, which also contains an intact section of the Delphi interurban line and the foundation of the early 20th century Smith Dairy Farm. In addition to discovering artifacts from the dairy, subsurface testing yielded 19th century artifacts that may be from the Baum era and the remains of a large animal eroding from the river bank.
Field School
Nearly every year the department hosts its own archaeology field school. This is a four-to eight-week opportunity to excavate at an archaeological site. Previous field school locations have included a mastodon dig in Flora, Ind.; investigations of early pioneer life at the Xenia site; excavations at a large prehistoric Indian village in Greenup County, Ky.; and survey and excavations of Mission period communities on Sapelo Island, Ga.
Every year, Dr. Moore takes undergraduate and graduate students with him to Sapelo Island, Ga. This year, students will be surveying portions of Dr. Moore's Mission period site that are known to contain occupations dating from 4,500 years ago and continuing to excavate within the known Mission period occupation area. Between 2005 and 2012, UIndy faculty and students excavated a portion of a Spanish structure located adjacent to the Guale Indian village that housed the mission. This year we continue looking for the church and other mission buildings, as well as survey other portions of the island in search of a contemporary Yamasee Indian village.