Fieldwork & Scholarly Opportunities
Students are typically given the chance to:
Attend regional and national scientific meetings with professors
Present original research or case overviews at professional meetings
Assist with or conduct guest lectures to the public
Assist with or attend professional training seminars in anthropology
Assist in undergraduate and graduate anatomy and biology lab courses
Assist with archaeology field schools and contract excavation projects in the Midwest
Assist with DNA extraction and analysis in the Biology Department
Complete curation and research projects in the Archeology & Forensics Laboratory
Skeletal casework
If your primary interest is in skeletal biology (either bioarcheology or forensic anthropology), you will be expected to volunteer on casework in the field and in the lab, starting your first semester. Students in other subspecialties may be allowed to participate if they have sufficient training and experience. A number of our advanced students have been able to participate in forensic and archeological projects in Alaska, Cyprus, Bosnia, Croatia and South Africa.
Field methods in forensic anthropology & historical osteoarcheology
If you're pursuing study in forensic anthropology or historical osteoarcheology, you will need to demonstrate proficiency in archeological field methods. Proficiency can be fulfilled by completing a total of four weeks of full-time (40 hours/week) archeological fieldwork, including survey and excavation, under the supervision of qualified personnel. A lab-based analysis component may be included, but the overall emphasis must be on field methods. The excavation of skeletons is not required.
---
Erica (UIndy alum): Crime scene specialist, Indianapolis-Marion County Forensic Services Agency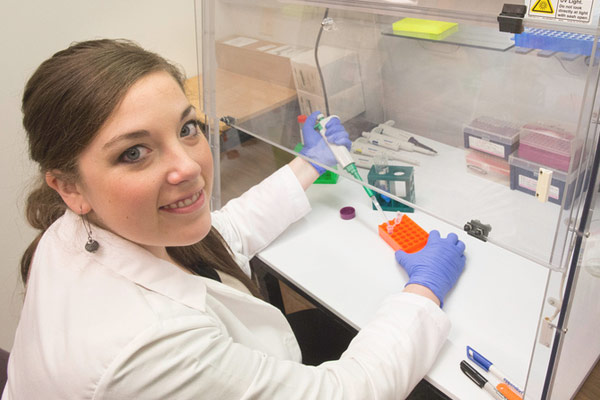 "One of the most rewarding projects I participated in at UIndy was human rights work conducted in the southern Texas town of Falfurrias. In the summer of 2013, Dr. Latham took me and three other graduate students to Sacred Heart Burial Park to help with the excavations of unidentified individuals who perished in Brooks County, Texas, and were buried without a name.
Our same team, with the addition of an advanced undergraduate student, returned in the summer of 2014 to complete excavations in a different part of the cemetery. We participated in this project as humanitarian volunteers in order to complete the first step of many in the long process of getting these individuals identified and returned home to their loved ones. This project has become very personal to me and I will forever be connected to the community of Falfurrias. These projects are the sort of once-in-a-lifetime opportunities that can be pursued at the University of Indianapolis."