Human Biology Master's Program
Combining elements of forensics and biological anthropology, the Master's in Human Biology at UIndy is one of the only programs of its kind in the United States. You'll gain professional experience in assisting archeological field schools and contract excavations, presenting original research and case studies at professional meetings, and working alongside professors to assist them in their own research. This program also prepares you for doctoral work in anthropology or medical school and is a foundation for careers in the forensic and clinical sciences and public health.
Areas of specialization
You may choose from the following areas of specialization:
Anatomy and physiology
Skeletal biology/human osteology
Human variation and adaptation
Forensic DNA
Forensic anthropology
Forensic field recovery techniques
Taphonomy and trauma analysis
Human evolution
Historic period cemetery osteoarcheology
Format
The Master's in Human Biology is a full-time program, with classes traditionally held during the day. We take a mentoring approach to education, with lots of individualized attention, informal instruction outside of the classroom, and hands-on learning. Most students in a cohort rotate as a group through the same classes, which are generally small seminars with ample opportunity for discussion. Due to the small size of the program, the number of elective courses available is limited compared to larger universities.
Program length
A minimum of 36 credit hours must be completed. The typical student is in residence for three years (six semesters), although a few have finished in two years (four semesters). The amount of time that will be required for you to finish the program depends on the type of thesis research you are engaged in, the amount of teaching you plan to do, and your involvement with skeletal and archeological casework.
---
Caitlin (UIndy alum): Doctoral student, graduate anthropology program at Michigan State University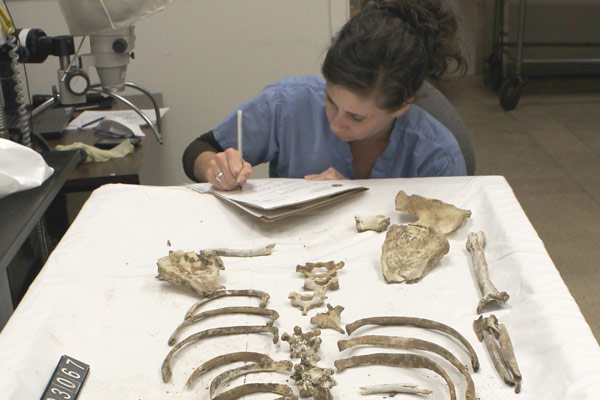 "The human biology program provided me with the skills to not only become a better physical anthropologist, but also a better scientist. The program is unique in its approach to forensic anthropology through teaching the fundamentals of human biology and variation and also exposing students to actual field and laboratory casework. The program prepared me for both a year-long forensic anthropology internship at the Pima County Office of the Medical Examiner, as well as for my current PhD program in anthropology at Michigan State University."
---
Coursework
You will need to demonstrate proficiency, either through graduate coursework or other experiences, in each of three
core areas within human biology:
Anatomy and physiology
Human variation
Evolutionary science
Tuition
The graduate tuition rate for the 2017-18 academic year is $508/credit hour (the same tuition rate applies to both in-state and out-of-state residents). Students are responsible for their own books and course materials. Get information about financial aid for graduate students ►
When can I start?
Students typically start in the fall. The deadline for completed applications for Fall 2017 admission is January 15. While we do not automatically deny requests for January admission, we discourage such requests because one of our core courses, Gross Anatomy, is offered only in the fall semester each year. A student entering in January would be out of sequence with coursework that builds upon Gross Anatomy. If you are requesting January admission, you must still file your application by the January 15 deadline in order to reserve a spot for the upcoming semester. Please note that admission is limited to 3–5 highly qualified students per year. Students must meet or exceed all admission requirements and be accepted into the program before enrolling in classes.