Fitness & Recreation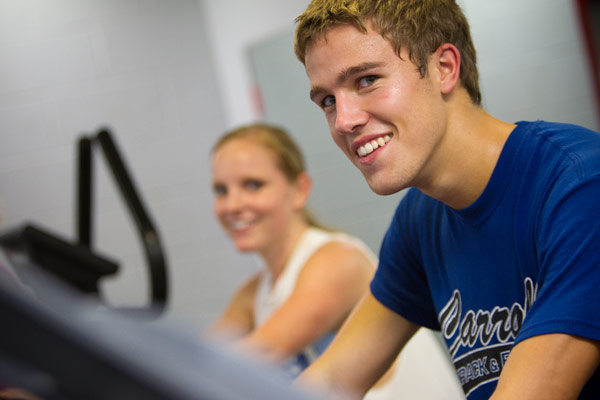 Trying to stay in shape? Looking for new ways to socialize or enjoy a friendly competition? UIndy dedicates multiple spaces to fitness and recreation for students at no extra cost. Whatever gets you moving, you'll find plenty of options to help keep you active, inspired and motivated. And no matter where you are on campus, you're never far from a good workout.
UIndy Fitness Center
The UIndy Fitness Center is located on the lower level of the Ruth Lilly Fitness Center and is free for all UIndy students, faculty and staff. The fitness center houses equipment for all fitness levels, including treadmills, elliptical machines, exercise and spinning bikes, weight machines, free-weight stations, medicine balls, and sport equipment rental to use in the gyms in RLFC and Nicoson Hall (basketballs, soccer balls, wiffle ball, volleyballs). Flat-screen TVs throughout the room help make burning those calories and increasing body strength more enjoyable.
University students, faculty and staff must present a University ID upon entry.
Fitness Center Hours
Weekdays
7 a.m.-11 p.m.
Weekends
1 p.m.-9 p.m.
*In the case of inclement weather, please refer to My UIndy for closings.
Ruth Lilly Fitness Center
Apart from the UIndy Fitness Center on the lower level, you'll find a variety of other activity options in the RLFC. You can also:
Swim some laps in the RLFC's eight-lane, 25-yard pool
Try your hand at racquetball in one of the three courts
Shoot some hoops on the full-length practice court
Watch home events for the men's and women's basketball, volleyball and wrestling teams from the bleachers or the second-floor track overlooking the court
Center hours
Monday – Friday
6 a.m. – Midnight
Saturday
12 p.m. – Midnight
Sunday
12 p.m. – Midnight
Pool hours
Monday – Friday
11 a.m. – 1 p.m.
Saturday – Sunday
1 – 3 p.m.
Athletics and Recreation Center (ARC)
The Athletics and Recreation Center, commonly known as the ARC, is an air-supported dome adjacent to the RLFC which features an indoor track, weight room and locker rooms available for non-athletes.
Schwitzer Student Center
The Schwitzer Student Center is the perfect place to exercise your mind, body and spirit. Get a great view of campus while working out on the second floor, lined with plenty of treadmills, exercise bikes, spinning bikes and free weights, and multiple flat-screen TVs. Need a study break? Enjoy a game of pool or ping-pong on the first floor.
Hours of operation
Monday – Thursday
6 a.m. – Midnight
Friday
6 a.m. – 1 a.m.
Saturday – Sunday
7 a.m. – 1 a.m.
Residence Halls
The majority of residence halls also have their own exercise equipment or recreation spaces, such as pool and ping-pong tables, adding to the quality of on-campus living at UIndy.
Roberts Hall - full fitness center
Warren Hall - small fitness center with treadmills and elliptical machines; exercise room for classes; ping-pong and pool table
Cory Bretz Hall - one treadmill and one elliptical machine; ping-pong and pool table
Cravens Hall - one treadmill and one elliptical machine; pool table