SEAiT: Student Employment and Internship Team
The Student Employment and Internship Team, also known as SEAiT, focuses on developing relationships with area employers and finding and preparing business students for internships and full-time job opportunities within those organizations.
Why the name SEAiT? It's based on the concept from Jim Collins' book Good to Great, in which great companies make sure they have the right employees, in the right seat, on the right bus, heading in the right direction. UIndy's SEAiT helps our business students find their seat!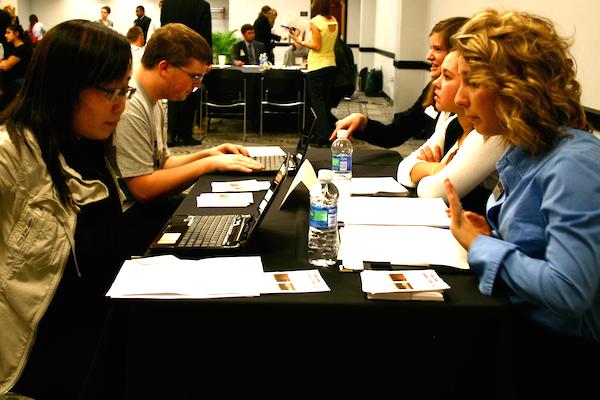 SEAiT Responsibilities
SEAiT student employees are responsible for all aspects of the internship and job placement process, including:
Connecting with businesses to identify employment opportunities
Conducting site visits to get a full understanding of the employer's staffing needs
Recruiting students for available positions
Conducting pre-referral interviews with potential candidates to ensure a good fit with the employer partner
Following up with the employer to ensure satisfaction
Tracking internship and job placements
SEAiT places students at the forefront of the employer internship process, giving them valuable experience working with business leaders while also assisting their fellow students.
Networking Events
In addition to providing recruiting and staffing services, SEAiT hosts two large networking events each year. Through these "Find Your SEAiT" events, SEAiT brings in faculty and professionals from local businesses to provide students with interviewing tips, resume editing and valuable networking opportunities.