MBA Accreditation & Rankings
Accreditation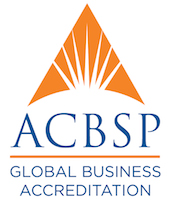 UIndy is accredited by the Accreditation Council for Business Schools & Programs (ACBSP), and is a member of the Association to Advance Collegiate Schools of Business (AACSB). The ACBSP accredits schools whose primary focus is teaching, while the AACSB accredits schools with a research focus.
Rankings & Awards
Though most rankings are done for schools with full-time residential MBA programs, the UIndy MBA is ranked "Top Tier in part-time MBA programs" by CEO Magazine and UIndy's MBA program also was the first in the country to be recognized under the Baldrige Quality Standard by the ACBSP.
Performance
The major performance outcome for the University of Indianapolis School of Business graduate MBA program for ACBSP is the graduation percentage rates. The graduation percentage rates for the School of Business MBA program are accessible per the Graduation Rate link below. The 2008 and 2009 cohorts are shown for graduation rates after four years. The data points are for completion in 2012 and 2013 (Summer 2013 is not included for the 2009 cohort). The graduation rate (the top line) shows the 2008 graduation rate at 79% and the 2009 graduation rate at 80% after four years.
MBA graduates do not complete for many reasons. Graduate students have job or life changes that delay their educational progress, sometimes for an extended period of time.
Program Goals & Student Learning Outcomes
The University of Indianapolis School of Business, in conjunction with ACBSP, follows the Six Sigma Define, Measure, Analyze, Improve and Control (DMAIC) process for continual improvement of academic programs.
To assure pertinent and current learning outcomes for students completing the graduate MBA program within the School of Business, MBA faculty reviewed the learning outcomes for the MBA program during 2012 and the first months of 2013. Critical student learning outcomes were identified for the MBA program, based upon benchmarking against professional society certifications and standards within the field, as well as an environmental scan of employer expectations.
School of Business MBA faculty have identified key outcome assessment measures to verify and confirm that students have achieved the identified program student learning goals. Because some of the learning objectives or assessment methods were changed or modified, based on the 2012 review, the MBA program is reporting the baseline data for the MBA program student learning outcomes.
As part of our continual quality improvement process, MBA faculty reflect on assessment of students' learning outcomes to diagnose any opportunities for strengthening the program. Improvements are made, based on the collaboration with other colleagues in the discipline. Adjustments may be made in prior foundation courses, course objectives, course activities, lesson plans for delivery and application of key concepts, and/or design of the assessment instrument.
The following link provides a summary of student learning outcomes and key assessment measures being evaluated over time, as well as the resulting improvements, if any, which have been made or improvements to be implemented or continued in the future.