Human Resource Development & Administration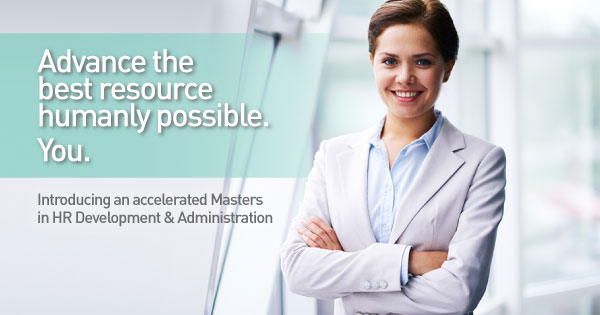 The Master of Professional Studies in Human Resource Development & Administration will help you develop skills and knowledge needed to advance your career. The program covers the many aspects of human resource management, including organizational and career development, human behavior, talent development, benefit options and records management.
Program length & format
The MPS is 30 credit hours. Courses are accelerated and last 7.5 weeks, so you can take six credit hours per term while only taking one class at a time. This allows you to complete the program in five semesters (21 months).
The MPS program is structured as a cohort, meaning students begin the program at the same time and take all classes together. This gives you the opportunity to network and develop relationships with classmates from diverse career backgrounds.
Class times & location
Classes are offered in sequence in a blended online and on-campus format. On-campus classes meet one night per week from 6-9:45 p.m.
Curriculum
The curriculum for the MPS in Human Resource Development & Administration consists of the following:
A foundational ethics course that focuses on ethical issues in the work environment (3 credit hours).
Concentration courses that provide both theoretical framework and practical application within the industry (24 credit hours). Courses will cover performance development and appraisal, instructional design and delivery, employee compensation and benefits, business accumen, ethics, workplace law and labor relations/negotiations.
A capstone course in which students collaborate with an industry sponsor and faculty advisor to complete a project in one of three areas: critical problem solving, contribution to industry practice or a field experience (3 credit hours).
Cost
Tuition for 2017-18 is $478/credit hour. Learn more about graduate fees/costs ►
When can I start?
A new cohort starts each fall.