Event Ticketing Center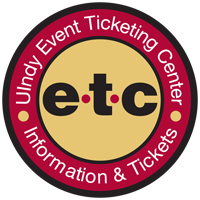 UIndy's Event Ticketing Center (E.T.C.) facilitates ticketing and reservations for most ticketed events on campus except athletic events. Please call our ticketing and information line for performance times, venues and other information.
Location: Ransburg Auditorium lobby (east entrance to Esch Hall)
Hours: Monday-Thursday, 11 a.m. to 5 p.m.; Friday, 11 a.m. to 3 p.m.
Ticketing and Information Line: 317-788-3251
Student-Directed Theatre Productions
December 4—6 & 10—12, 8 p.m.
Free preview: December 3, 8 p.m.
Student Theatre, Esch Hall
Admission: $12 general; $10 for alumni, senior citizens, groups of eight or more, and non-UIndy students with ID. December 10 is half-price 2nd Thursday.
Productions are staff and designed by students, who use them as a laboratory experience, putting into practice the principles, they have learned in the classroom. Working closely with the faculty and staff, the students select, cast, and direct the plays and supervise the lighting, design, and construction for the productions. The specific shows are to be announced. Purchase tickets ►
Duke Ellington/Billy Strayhorn "The Nutcracker Suite"
December 7, 7:30 p.m.
Ransburg Auditorium
L/P credit is available
General admission: $15
UIndy faculty & staff: $10 (limit 2)
UIndy students: free (limit 1)
Senior (62+): $5
Non-UIndy college student: $5
Children under 18: free
To mark the 100th anniversary of the birth of legendary arranger Billy Strayhorn, top music students will join forces with faculty and local professionals to present the celebrated Ellington/Strayhorn Nutcracker in its entirety. The work seamlessly combines music from Tchaikovsky's Nutcracker Ballet with the artistry of Duke Ellington and the masterful arranging skills of Strayhorn, whose nephew Larry Strayhorn will emcee the event to help the Jazz Studies program kick off a new UIndy holiday tradition. Larry Strayhorn also will screen a documentary film about his uncle at UIndy on Friday, December 4. Purchase tickets ►
Christmas Celebration
December 11, 7:30 p.m. & December 13, 4 p.m.
Ruth Lilly Performance Hall
Admission: $11; Seniors & students: $6
Featuring University Choral, Instrumental, and Handbell Ensembles. Purchase tickets ►
---
Information about attending UIndy Arts events
We are happy to answer any questions you may have regarding a UIndy Arts performance. The information listed below may help you plan, or feel free to call us at the number listed above.
What to wear
Some patrons wear jeans, while others dress up. It's up to you.
Purchasing tickets
Tickets may be purchased at the E.T.C. during regular business hours or at the performance venue one hour prior to most productions, excluding the Department of Theatre's annual dinner theatre. Tickets for that performance must be purchased in advance.
L/P credit for UIndy students
Student representatives from the Lecture Performance Series will be located in the lobby prior to every performance to distribute L/P slips. You must remain for the entire performance. Afterward, you may return the slip to the L/P representative.
Leaving unexpectedly
If possible, please try to leave during a scene change or between musical numbers to cause the least amount of disruption to other patrons and the performers. If you wish to return to the production, please ask an usher for assistance.
Phone calls & texting during performances
It is never appropriate to have a phone conversation or to text during a performance. These activities are disruptive to other patrons and the performers. Electronic devices can also affect sound equipment and communication systems, so please turn phones off (not just on silent or vibrate).
Taking pictures or videos
Photographing or recording of sound or video, without prior permission from UIndy officials, is strictly prohibited. For permission, please contact the specific department that is producing the performance.
Bringing children
As a courtesy to other patrons and the performers, please do not bring infants or preschoolers to the production. Some of our performances are not appropriate for children. Our advertising will typically note when a production contains adult language, themes or situations. If you have questions about a specific production, call the E.T.C. at 317-788-3251 during the times listed above.
Food & drink
Refreshments are typically not offered at UIndy productions. Please do not take food or drinks, other than bottled water, into any performance venue or gallery.
Other questions?
Call the E.T.C. at 317-788-3251 or visit during the times listed above.