Browse Department
Now accepting MSW applications for January 2018 start!
Join UIndy's Social Work family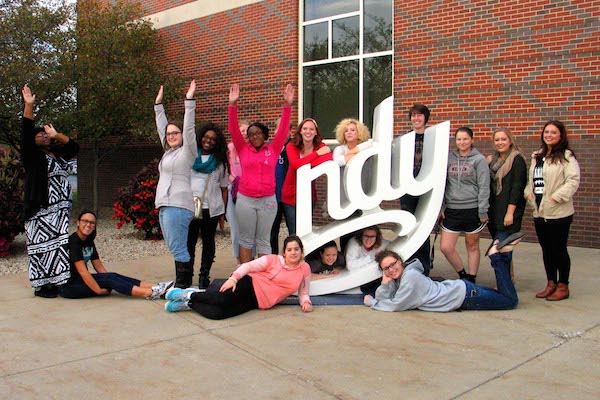 When you become a student in UIndy's Phylis Lan Lin Department of Social Work, you'll do more than just take classes and complete projects. You'll become part of a caring family, with experienced faculty members dedicated to helping you develop the skills you need to be a successful social worker and getting you off to a good start in your career.
Follow all the exciting things happening in the Social Work Department. Join us on Facebook! ►
Partners in all areas of Social Work
The Phylis Lan Lin Department of Social Work at UIndy works with more than 40 diverse organizations to offer fieldwork experiences for our students. Social Work majors must complete two practica (similar to internships) during their junior and senior years. Whether your interest is in working with children, senior citizens, or somewhere in between, we have a partner organization that will give you the experience you need for a career in the highly diverse social work field. Learn more ►
Master of Social Work (MSW) program
Our new Master of Social Work program launched in the Fall of 2016 and is currently in candidacy with the Council on Social Work Education (CSWE). The MSW program builds on our highly regarded BSW program.
The mission of the Master of Social Work Program at the University of Indianapolis is to prepare graduates with the knowledge, skills, values and ethics of the profession. These graduates will be competent and ethical social work practitioners able to provide service to individuals, families, organizations, and communities. Graduates will work to enhance the quality of life and improve the well-being and social functioning of individuals, families, and communities, particularly oppressed and vulnerable populations and their communities, by employing direct services, advocating for social and economic justice, and planned social change to enhance human rights. Graduates will have theoretical basis for interventions, relying heavily on the ecological and strengths perspectives.
The MSW program develops and enhances scientific and critical inquiry and ethical decision-making in practice and provides students with the knowledge base to work, live, and pursue economic and social justice in a diverse and global society. As education and development does not stop at graduation, the MSW program instills in students an awareness of their responsibility to engage in continuing professional development and life-long learning.