PsyD Concentrations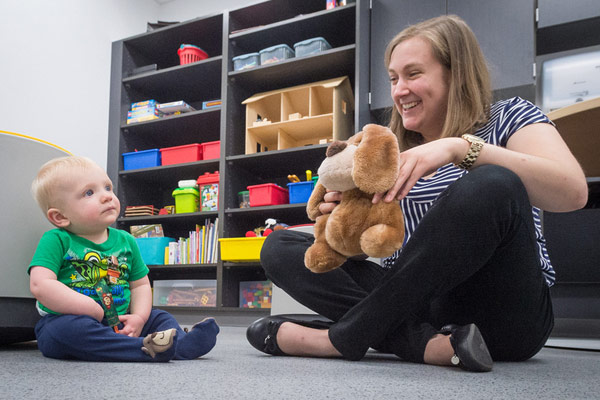 Students can choose one of three concentration areas to develop additional depth and advanced clinical expertise in an area of interest:
Health Psychology & Behavioral Medicine
Childhood & Adolescent Psychology
Adult Psychopathology & Psychotherapy
Each area is comprised of a sequence of courses totaling nine credit hours, which allow for the development of advanced skills and competencies. Students take concentration and elective courses in the third year, and enrollment in a concentration is optional.
Health Psychology & Behavioral Medicine
The Health Psychology & Behavioral Medicine concentration provides students with additional expertise in the psychological aspects of various health-related problems. Students' expertise in health psychology and behavioral medicine is augmented by supervised doctoral practicum experiences and internship opportunities in medical centers, health clinics, hospital settings and other health-related practice sites.
Courses
Courses in this concentration cover such topics as psychopharmacology, neuropsychological assessment, the evaluation and treatment of the behavioral components of various medical conditions, and the interactions between stress, psychological functioning and medical health. Areas such as pain management, addictions and health maintenance and prevention are also addressed.
Practicum & internship opportunities
Indianapolis is home to a variety of health care facilities, so students have many opportunities for practica at hospitals, treatment centers and group practice sites. Many of our students also have landed internships at APA-accredited sites around the country.
Dissertation topics
Students have pursued a variety of empirical and non-empirical dissertations in this concentration. Topics have covered unique aspects of a wide range of health-related topics, including HIV/AIDS, schizophrenia, adolescent smoking, personality styles and health care utilization, and binge eating.
Childhood & Adolescent Psychology
The Childhood & Adolescent Psychology concentration provides students with advanced courses in the assessment, diagnosis and treatment of disorders of infancy, childhood and adolescence. Courses emphasize developmental psychopathology, through which the biological, intrapsychic, interpersonal, and sociocultural levels of analysis inform the students' understanding of children's unfolding adaptive and maladaptive functioning. These advanced conceptualization skills provide the foundation for the design and implementation of interventions directed at the assessment and treatment of children, families and other related systems.
Courses
Students in this track complete the following courses, along with additional electives: Child & Adolescent Psychopathology, Child & Adolescent Assessment, and Advanced Treatment Strategies with Children, Adolescents & Families.
Practicum & internship opportunities
Clinical child psychology skills acquired through the concentration sequence are enhanced through supervised doctoral-level practicum and internship placements in schools and outpatient, residential or inpatient child sites. Students can choose from about 20 practicum sites around the city that serve infants to adolescents with a variety of diagnoses. Settings include hospitals, schools, private practice and community mental health. Students have also held internships in child and adolescent settings across the country.
Dissertation topics
Past dissertation topics have covered child or adolescent psychology from many angles, including family treatment for runaways, disruptive behavior disorders, attachment disorders, eating disorders, and social skills.
Adult Psychopathology & Psychotherapy
The Adult Psychopathology & Psychotherapy concentration builds advanced skills in the evaluation, diagnosis and treatment of adult problems. Students examine both milder stress and adjustment problems, as well as more severe forms of psychopathology, as they gain advanced skills in psychodiagnosis, psychological assessment and psychotherapy. Courses examine various influences on psychological adaptation and coping patterns from individual and systems orientations, and explore theoretical and applied aspects of the treatment of disturbed mental states from multiple perspectives. Students must select three or more advanced electives from the adult concentration, such as psychoanalytic, cognitive, behavioral, humanistic, existential and family systems. Clinical skills in this area are further enhanced through doctoral level practicum and internships.
Courses
Courses in this concentration vary year by year, depending on student needs and faculty expertise. Recent course offerings have covered such topics as psychology of gender, advanced adult assessment, group psychotherapy and hypnosis, and specific disorders or behaviors.
Practicum & internship opportunities
UIndy offers many practicum opportunities that focus on adult psychopathology, psychotherapy and assessment. Locations include hospitals, university counseling centers, the Indianapolis VA, forensic facilities, addiction treatment centers, a domestic violence shelter and group practices. Many of our students pursue internships across the country at places where they can continue their interest in working with adults. Community mental health centers, VA hospitals, prisons, the military and counseling centers are examples of places students with adult interests have done their internship year.
Dissertation topics
Students in the Adult Psychopathology & Psychotherapy concentration generally write dissertations on topics related to adulthood. A number of faculty at the University of Indianapolis specialize in the area and serve as project mentors. Projects may range from program development to psychotherapeutic interventions to development and validation of psychometric measures to understanding more about how adults with specific issues process information or behave.