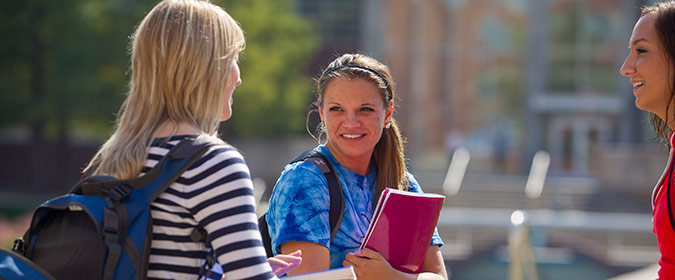 Transfer Students
Whether you're transferring because of financial considerations, or you're in search of better educational opportunities, or you're simply looking for the right fit, you're not alone. Hundreds of thousands of students transfer colleges every year. The transfer process may seem daunting, but UIndy's Admissions Office is here to make your experience as smooth as possible. We'll walk you through the process, connect you to valuable resources and the campus community, and make sure you're on track for your intended graduation date. Before you apply, please read the information below to ensure that you have met the criteria necessary for enrollment as a transfer student at UIndy.
How do I get started?
UIndy offers a rolling admission policy, which makes it easy for you to transfer here without interrupting your studies. For personal assistance with questions about the University or the admissions process, ask our transfer admissions counselor, Carrie Powell, or call us at 800-232-8634.
Admission criteria
To be eligible for full-time admission, transfer students must have earned at least a C average (2.0 cumulative GPA) in previous college coursework. Transfer candidates who have earned less than a C average or who have been on social probation may be considered for some type of admission on an individual basis. Special admission will be based on exceptional high school merit and, generally, if the applicant has been out of school for one semester or more.
Admission while enrolled at another institution
A tentative admission decision or provisional admission can be offered based upon an official transcript with a C average or better. (A final official transcript must be submitted after the end of the semester and the student must maintain a C average or better to earn full admission.) By earning provisional admission, the applicant can have credits evaluated, register for classes, and seek financial assistance.
Will my credits transfer?
Official credit evaluations take place when the transfer applicant earns regular or provisional admission. The key advisor or program director in each academic unit conducts credit evaluations for admitted transfer students.
Generally, for credits to transfer to the University of Indianapolis, you must have:
Attended a regionally accredited college.
Earned a "C-" grade or better in a course that is applicable to a program of study offered at the University of Indianapolis.

Exception: Basic Writing and English Composition are transferable only if a grade of C or above has been earned. In addition, some academic programs require C or above grades for major courses. Any course with a grade below a C would not be transferable into these programs.
What to do after you've been accepted
Once you have been admitted to UIndy, here are the steps you'll need to take before you can register for fall day division classes:
Submit a $100 tuition deposit and a $50 housing deposit (if applicable). If you are transferring to begin your studies before the start of the winter semester, no tuition deposit is required and you can contact your advisor and register for classes once you have completed the admission process.
Take any necessary placement exams. All application are reviewed for proficiency in math and English, and students who demonstrate proficiency will be notified by mail in early May with the name and number of their advisor. If further testing is required, transferring students will be given an available registration date and time in either June or August.
Meet with your assigned academic advisor, who will then assist you in registering for classes.
Where can I live on campus?
Campus housing is an important part of the UIndy experience, and is available to all admitted students who plan to enroll full-time. On-campus housing consists of five residence halls and a University apartment complex. Campus housing is available on a first-come, first-served basis to transfer students who have made the $50 deposit. Off-campus housing is also available with many properties within driving distance to campus.
How do I make sure I graduate on time?
The Center for Advising and Student Achievement (CASA) provides a centralized, accessible program of effective academic advising and mentoring for students, from career exploration to academic planning and course registration. Your advising appointment will include discussions about resources on campus, transfer credits, course schedules and degree completion. After you have paid your tuition deposit, you may contact CASA at 317-788-2057. CASA is located in Schwitzer Student Center, Room 206.
Nursing majors should contact Rita Hankley at 317-788-3244 or hankley@uindy.edu for an advising appointment.
Physical therapist assistant (PTA) majors should contact Mikka Jackson at 317-788-4909 or mikljackson@uindy.edu.
Need help?
As always, we welcome you to visit the UIndy campus and meet with your admissions counselor, submit any financial aid information, take a guided campus tour, and meet with the academic faculty in your area of interest. Faculty meetings are subject to academic availability, but appointments can be made most weekdays between May and August. To arrange a campus visit, contact the Office of Admission at 800-232-8634 or 317-788-3441.