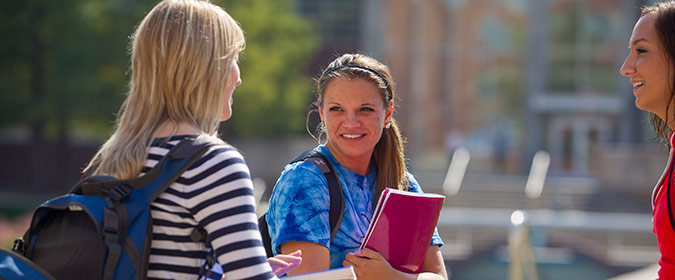 Transfer Students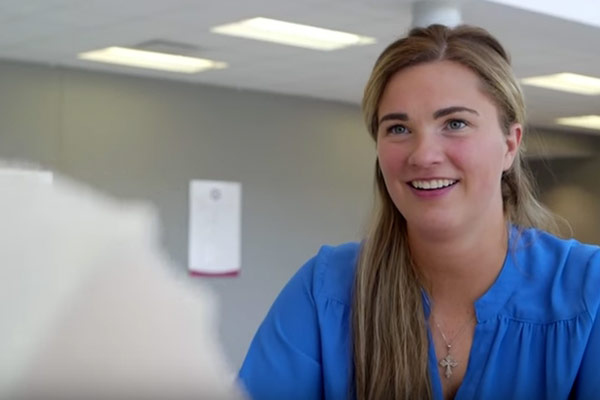 Transferring to UIndy opened many doors for sport management major Aimee Sickmeier. Watch the video ►
While the transfer process may seem daunting, UIndy's Admissions Office is here to make it as easy as possible. We'll walk you through the transfer steps, connect you to the campus community and resources, and make sure you're on track to graduate. We also offer a rolling admission policy, so you can transfer without interrupting your studies.
Saint Joseph's College transfer students
If you are a student at Saint Joseph's College, the University of Indianapolis could be your new home. To learn about transfering to UIndy, please visit the Saint Joseph's College transfer page.
How do I transfer?
It's easy and free to apply! Fill out our online application. (Nursing and PTA Exceptions)
Send your official college and high school transcripts. See instructions ►
Start working on your financial aid. Get information about your financial aid package faster by:

Completing the FAFSA. If you have already completed the FAFSA, you will need to revise it by adding UIndy's school code, which is 001804.
Completing the

UIndy Aid Application

.
Once you have applied to UIndy and have sent in your official documents, we typically make an admission decision within one to three weeks.
If you are accepted, the transfer admissions coordinator will then determine if you are eligible for transfer scholarships.
After scholarship eligibility is determined and your credits are evaluated, you will receive an admissions packet including an admissions letter, scholarship letter (if applicable) and a credit evaluation report.
You will need to submit a $100 tuition deposit in order to register for classes. If you are transferring to begin your studies during the summer, an initial deposit is not required for the summer session, however, a deposit will still be required to enroll in the Fall Semester.
Take any necessary placement exams. All applications are reviewed for proficiency in math and English. If you demonstrate proficiency, you will be notified by mail in early May with the name and number of your advisor. If further testing is required, you will be given an available registration date and time in June or August.
Meet with your assigned academic advisor, who will then assist you in registering for classes.
Admission criteria
To be eligible for full-time admission, transfer students must have completed at least 15 college credits and have earned at least a C average (2.0 cumulative GPA). Transfer candidates who have earned less than a C average or who have been on social probation may be considered for some type of admission on an individual basis. Special admission will be based on exceptional high school merit and, generally, if the applicant has been out of school for one semester or more.
Admission while enrolled at another institution
A tentative admission decision or provisional admission can be offered based upon an official transcript with a C average or better. (A final official transcript must be submitted after the end of the semester and the student must maintain a C average or better to earn full admission.) By earning provisional admission, the applicant can have credits evaluated, register for classes, and seek financial assistance.
What credits will transfer?
A credit evaluation report will be completed within two to three weeks of acceptance to UIndy and will be included in your admissions packet. Generally, for credits to transfer to the University of Indianapolis, you must have:
Attended a regionally accredited college.
Earned a "C-" grade or better in a course applicable to a program of study offered at UIndy, except for an English composition course, which require an earned grade of C or above.
View all transfer credit policies ►
Sending official college transcripts
Official transcripts can be delivered to UIndy in the following ways:
Ask your current or previous institution to mail official transcripts to:
University of Indianapolis
ATTN: Admissions Office
1400 E. Hanna Ave.
Indianapolis, IN 46227
Ask your current or previous institution if it has an electronic transcript ordering system. Transcripts can be sent electronically to undergradtranscripts@uindy.edu.
Pick up your transcripts in person, and deliver them to UIndy. Do not open the transcripts, or they will be considered unofficial.
UIndy offers substantial scholarship awards to transfer students, based on academic achievement. Awards and scholarships are renewable for up to six semesters.
View transfer scholarships and criteria ►
Campus housing
If you plan to enroll full time, you may take advantage of one of our campus housing options, which consist of seven residence halls and University apartments. Campus housing is available on a first-come, first-served basis with a $50 deposit.
How do I make sure I graduate on time?
The Center for Advising and Student Achievement (CASA) provides a centralized program of academic advising and mentoring. Your advising appointment will include discussions about campus resources, transfer credits, course schedules and degree completion. After you have paid your tuition deposit, contact CASA at 317-788-2057. CASA is located in Schwitzer Student Center, Room 206.
Contact your admissions representative
For questions about UIndy or the transfer admissions process, ask our transfer admissions counselor, Carrie Powell, or call us at 800-232-8634.